March 15, 2015, 00:05
Edward A. Huston
Boulevard
Greetings all.
I was just given this watch by my parents and I was just looking for some information and/or guidance. It is a Boulevard watch, marked Swiss but no serial number that I can see. I was told that there is a very good possibility that this watch was sent through a washing machine in the last year or two. That is the reason that it has no crystal and possibly some rust looking areas inside. Any idea of date on something like this? And more importantly, is it worth the money it would take to get it cleaned up and working? It appears to be all original with Boulevard on the dial, movement and case. Any thoughts or comments would be greatly appreciated.
March 15, 2015, 00:06
Edward A. Huston
Here is the movement. At closer look, it does look like some rust has set in.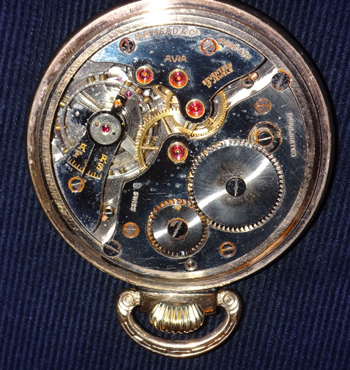 March 15, 2015, 00:07
Edward A. Huston
Keystone Boulevard stamped 10k case.
March 15, 2015, 01:01
David Abbe
The movement is in serious need of cleaning before the advancing rust destroys it. It is a nice 1920's - 40's watch. If not too damaged by rust, it should make a nice carry watch.
This is what is reported regarding M.A. Mead & Co. "Boulevard" at another site;
"The M.A. Mead & Co. of Chicago, IL registered the trademark "Boulevard" in 1922 for watches, movements and cases.
Avia, Degoumois & Cie, SA of Neuchatel and La Chaux de Fonds was the manufacture of Avia branded movements and Pritchard also shows the M.A. Mead Co. as the distributor of "The Boulevard".