October 14, 2014, 19:25
Patrick Wallin
Forign Pocket stop Watch
I have a Gallet (Swiss) 16s (Jules Racine) Stop Watch. It ran when I received it, but now will not wind. (A stem problem)It has a lever on the left side that slides up & down (Stop/Start) Also the hands are missing. Can anyone tell me something about it?
I have pictures if needed.
Patrick
Pictures were posted 10-15-14.
October 15, 2014, 04:52
Gerald Zimmermann
Hi Patrick
Pictures would be sure of some help

Regards
Gerald
October 15, 2014, 14:46
Patrick Wallin
Thanks Gerald. They will be below ASAP.
I forgot to mention this is a stop watch.
October 15, 2014, 15:20
Patrick Wallin
Gsllet Front & case w/lever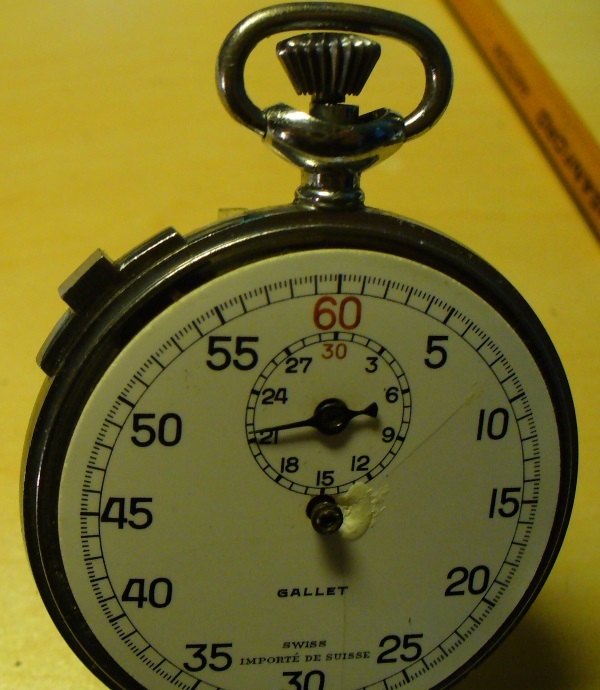 October 15, 2014, 18:10
Gerald Zimmermann
Oh a nice one:
Football/basketball timer 1/5 seconds; 30min register. The side-slide stops and continues the timer on Time out's
Regards
Gerald
October 17, 2014, 16:30
Paul D. Trombley
Interesting... 1/5th second is 1 beat on an 18,000bph movement. The most practical increment to capture on a dial.