Internet Horology Club 185
Chronometer Inter
May 30, 2006, 22:36
Cort Moore
Chronometer Inter
I found this watch at an estate sale. It's a real beauty too but I haven't found much info on it. The dial is marked "Chronometer Inter/Geneva & Paris/A. Sigwart & Sons /Oakland".It has it's original box too which is also marked.The movement is very slim and high grade, about 12S, and is marked with the Co. name and "Five adjustments/(5) positions/two temperatures". The case is 14K white gold and is also signed and inscribed inside "to Walter from mother and father March 13,1929"and there is a nice 16" 18K
chain attached.
Kathy Pritchards book states that Inter was a brand of the Notz Watch Co.who were known to deal in "jewelry watches" but it is also noted that an ad is known that touts their chronometer. I haven't looked under the dial yet to see if there are other clues but I hoped someone out there might recognize the ebauche.
Thank you for looking.
-Cort
May 30, 2006, 22:37
Cort Moore
and the movement.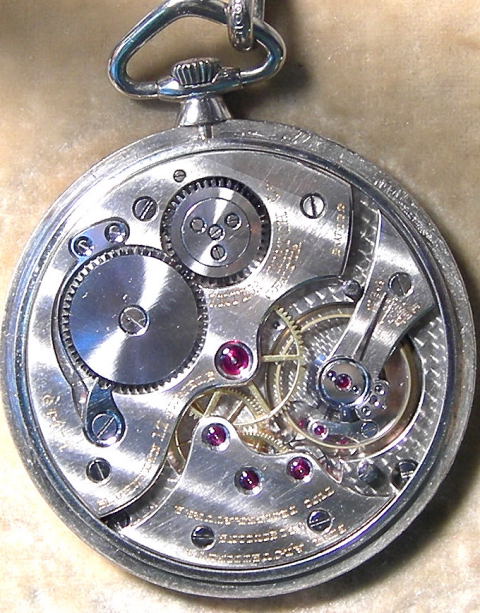 May 31, 2006, 23:22
Cort Moore
Nothing under the dial at all but a really well made watch. The balance was frozen when i got it
but after I cleaned the balance and applied some oil it timed well within R.R. standards(approx.-5seconds in six postions with vertually no variance. Once cleaned I'm quite certain that meeting chronometer standards would be no problem.
Something about it reminds me of some Longines layouts I've seen but I don't recall seeing a watch by them with no mark at all.
Under the dial-
June 01, 2006, 00:34
Jerry Treiman
It's a beauty! Is that a Cressarrow case?
June 01, 2006, 01:15
Cort Moore
Thanks Jerry,
I thought you would appreciate this one. The case is signed Inter Watch too. I have some Cressarrow wrist mv'ts though and they are comparable in grade watch to this watch.I haven't had a complete one.
-Cort
p.s.-Two other notes- I googled "Sigwart Oakland" and found much info on this jeweler including a pic of a 1921 directory page with an ad for their biz(internet is amazing ain't it?)
Also, the watch was inscribed to someone who's
last name was also the name of the street the estate sale was held on- a nice touch..-C
June 01, 2006, 14:57
Peter Stammler
These are really nice watches. I have a loose mvt and it doesn't fit in a 12s case, alas. I do not think these were produced by Longines. Looking at the "fingerprints" of the mvt (i.e. HS stud; lever; click; click spring; winding wheels; setting mechanism; etc) gives no clue to the manufacturer in this case. Maybe they produced them in-house? Here are two more pictures:
1
2
June 02, 2006, 00:03
Cort Moore
Peter,
Very cool to see another! Ser. no here is 11,149; pretty close to your 11,174 and the 11,354.
I know its not exactly 12s and that its not a Longines product. I was just attempting to describe it as "like"that. I've never seen one of these before. Thank you for the post on your watch.It was neat to see and helpful info too.
-Cort
June 04, 2006, 02:27
Peter Stammler
Cort,
here's my
mvt
and
dial
. The other two were just out of my pic's collection.
As you see the finish of my mvt is somewhat different and maybe even nicer. SN is a little lower, too
June 04, 2006, 06:07
Jim Carroll
Cort/Peter
Really beautiful watches, I notice two pins each side of the balance any ideas what there for.
June 05, 2006, 01:11
Cort Moore
Jim,
I'd call them pillars rather than pins because their function seems to have been to defend the delicate balance if the case got squeezed. My watch had faint bumps
on the case which indicated the location of the pillars, and that they did their job.
-Cort
June 05, 2006, 02:10
Cort Moore
Peter,
Hard to know which was finished nicer without seeing them side by side but I will grant you that yours looks just a hair better to my eye. Some day we may know if these were an "in house" ebauche or not but, at least, the next time one comes up, the info put together here will exist for the new owner to ponder.
-Cort