March 02, 2015, 00:09
Paul D. Trombley
Help date 17j Lord Calvert
Hi guys,
This is one of three heirloom watches I did for my boss this week.
Gpa Sam was a Share cropper, Deacon in the local church, cut railroad ties for $0.50/day and loved to wrestle. The family is from south and central Missouri.
I'm pretty sure the movement is original to the case. A Keystone base metal, serial number 833615.
The EON on the movement crosses to Avalon/Calvert.
True bridge, 17J unadjusted, going barrel, wrist watch or European style set/wind mechanism.
Overall, nice fit and finish, great runner. Super nice jewels.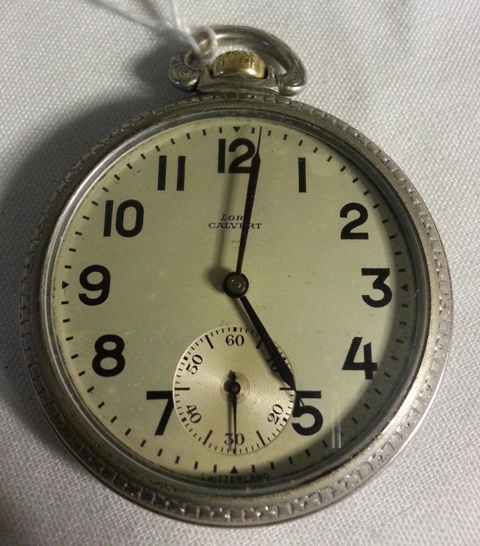 March 02, 2015, 00:10
Paul D. Trombley
Sorry, no serial numbers...
March 02, 2015, 11:49
Paul D. Trombley
My best guess is the heart of the depression based on the bull dog style case, synthetic jewels...
March 02, 2015, 19:15
Peter Kaszubski
Lord Calvert was a name used by the American Jewelry Distributors Co. They provided lots of watches to independent jewlers and variety stores in the post WW2 period.
Found it on the web.
March 03, 2015, 11:49
Paul D. Trombley
Thank you Peter. A bit later than I expected, but makes sense.