August 21, 2014, 21:52
Jon Hart
39.45 - Geneva
Ok Gerald - hopefully this is in your swim lane

Can give you the basics - hope you can fill in the blanks...
39.45 mm at the widest part of the movement (dial band area)
Open Face - winds and runs (surprisingly)
Jeweled center wheel - capped escape wheel jewel - interesting winding wheel setup with the 3 screws on both wheels
Dial stamped: John Wanamaker (love that last name) and Geneva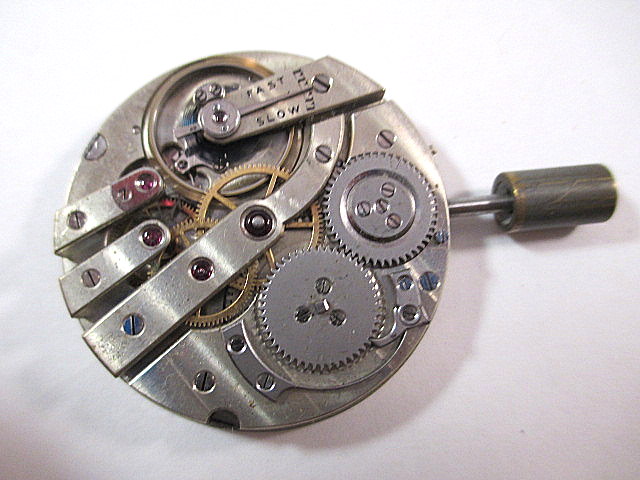 August 22, 2014, 04:44
Gerald Zimmermann
Hi Jon
A very fine swiss watch movement for a dress watch!
Very likely LeCoultre cal. 1 (19j?) with wolf-tooth winding gears; a fine polish on the wheels and spokes; jeweled to the center. I think it was made in the (late)1880's.
A very nice three colored dial with 'Moorhouse-style' numerals blue minutes and gold dots - I lke it!
Private label to
John Wanamaker
; great merchant and for some years United States Postmaster General.
As said a very nice movement with some history, would be great to have this in it's original case!
Regards
Gerald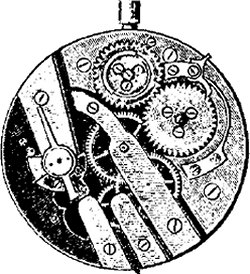 August 22, 2014, 09:17
Jon Hart
As always - Gerald, appreciate the information you share.

Here is another from the same box, also marked Geneva, but a completely different plate setup. A KW, KS...
Let me get you the movement measurements and first name on the dial...
August 22, 2014, 13:42
Gerald Zimmermann
The second movement is a generic typical swiss bar style movement, (late) 1870's; 17j; finished for the export towards America. Lower quality than the first example. Good dial.
Henri (Henry) Hoffmann Locle or Geneva is very likely no watchmaker but exporter, The watches bearing his name are to different to be out of one hand and his is not known as watchmaker.
Pretty good time-keepers, nice to work with but nothing spectacular.
Gerald
August 22, 2014, 14:34
Jon Hart
Yes - I agree the 2nd one looks quite generic.
If I bog you down, just yell at me to stop, but I am a rather curious old bee

This one looks very generic as well - gilded plates low jewel count, and no name on the dial. Just plainly stamped "Made in France"...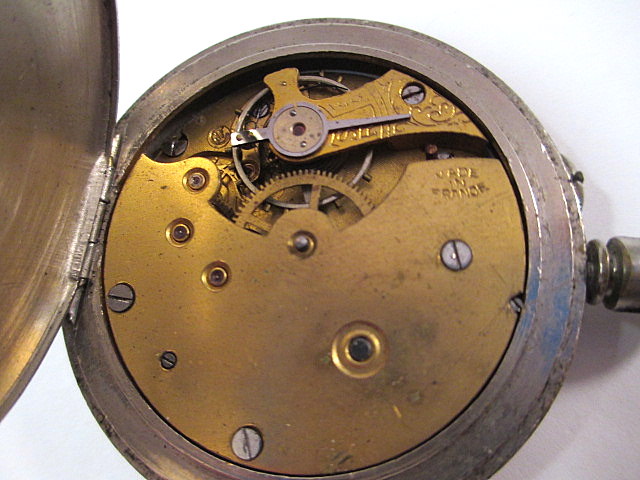 August 22, 2014, 16:54
Gerald Zimmermann
Japy Freres & Cie; Beaucourt; France; model 'Double Succes Lever' ca 1905:
Gerald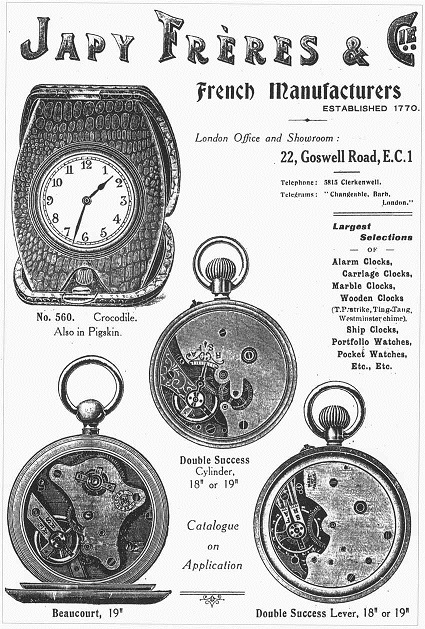 August 22, 2014, 19:42
Jon Hart
What an interesting story:
"JAPY FRERES
Japy freres was founded in 1806 by Frédéric with his sons Pierre (finances/ commerce), Fritz and
Louis (technicality, machine design)
Today JAPY FRERES watches and clocks are still around because of the devellopment by industrializion the
watch manufacturing industry.
They produced many watches and clocks, estimated in the millions during a good 150 years.
Frédéric Japy (1749-1812) was a pioneer in the "art" of industrialization and manufacturing, not only
watches/ clocks, but of manufacturing in general.
Watches/ clocks were made individual, by hand, by one or more people and then assembled.
Like Ford did with cars, starting production lines for cars, at one place concentrated, Japy did
the same around 1770-1812 by manufacturing pocketwatches and clocks in basic production lines
at one place concentrated at Beaucourt (his native town) in France.
In very short time the production was more then double the usual way.
In 1806 three of his sons (Pierre,"Fritz" and Louis) took over the bussiness and founded the trademark
"Japy Freres".
The "golden age" to the japy freres dynasty was during the 1850-1930 years, by manufacturing
watches/ clocks that the "common man" could buy.
Japy Freres also created the machines or modified machines to do this.
Because of production amount/ speed and lower prices Japy Freres got many contracts by different army's to
deliver watches and clocks.
Japy Freres gave birth to the new standard for production: in his case this ment: watches, clocks, and later
on emaille dials, and other things.
Later on Frédéric's idea and interpretation of production lines became the industrial standard, as good as
world wide.
After his death in 1812 the factory went through his family untill the late 1930's, and ended there, as far it
concerned watch/ clocks manufacturing."