September 02, 2014, 15:35
Roddy J. Brunton
ANY IDEA ON THE MAKER WITH THIS LOGO?
I DON'T HAVE ANYTHING ELSE, JUST THE IMAGE OF DIAL.
SWISS MADE POCKET WATCH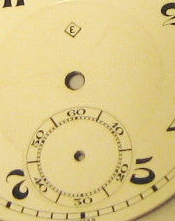 September 02, 2014, 16:24
Dave Turner
Roddy, I believe that's an Eaton. Dave Abbe's very familiar with these.
September 02, 2014, 16:45
Roddy J. Brunton
Hi Dave,
I just Googled that, and you are absolutely correct!
I knew I had seen it before.
Thanks, Rod
September 03, 2014, 08:09
Dr. Debbie Irvine

Utilizing our "Find Or Search" feature brings up previous discussions regarding Eaton

Here are just a few…

Ed Parsons post

Dave Abbe post

Dave Abbe post

Rich Kuhn post