Internet Horology Club 185
Repeater Problem
June 13, 2014, 08:03
Jack Winch
Repeater Problem
I have a Swiss repeater pocket watch, with case marked MGBM, which I understand stands for 'Manufacture Genevois des Boites de Montres'. The movement only has the marking 'Swiss Made' and the serial no 257769.
The hands will only turn between 11.25 and 11.40. The watch will only tick while the hands are between those two positions. I haven't managed to get the repeater to work, but that's maybe to be expected given the other problem.
Can anyone advise what may be wrong with the watch?
Do you think it would be worth repairing?
I've attached 3 photos, to give you an idea of it.
Many thanks in anticipation!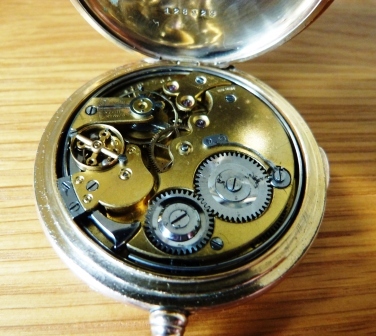 June 13, 2014, 08:04
Jack Winch
This is the face...
June 13, 2014, 08:05
Jack Winch
This is the inside of the watch case...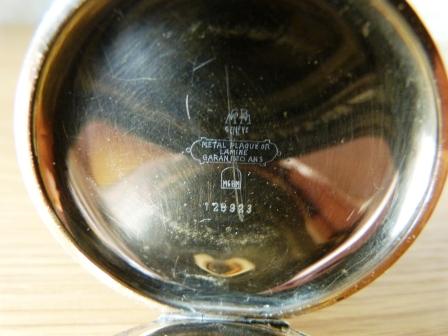 June 13, 2014, 08:36
Gerald Zimmermann
Hi Jack
The minute hand is blocked by the faulty repeating mechanism (therepeating mechanismis engagedbut for some reason can't chime. The isue might betrival but it's no repair for beginners. Swiss/french watch in a plated case - sure worth repairing - problem is to find someone who has the knowledge skill and will to do this.
To identify the maker a detailed, larger and more frontal picture of the movement is needed.
Regards
Gerald
June 13, 2014, 10:26
Mark Cross
Push comes to shove, I'd suggest you contact
Chris Abell, Certified Watchmaker
on this. One of his specialties is repeaters.
Regards! Mark
June 13, 2014, 11:13
Jack Winch
Thanks, Gerald and Mark for the information and advice!
Here's the best photo I could take of the movement for identification purposes - but I couldn't find a maker's mark?
June 13, 2014, 12:20
Gerald Zimmermann
As said - picture would help

movement was made by Le Phare; Le Locle; switzerland ~ 1890
Regards
Gerald
June 13, 2014, 14:52
Ethan Lipsig
I am not sure this watch is worth repairing if anything more than a minor adjustment is needed because repeater repairs can easily cost more than $1000. That might be worthwhile if this were a high quality 18k minute repeater, because one in good running order usually sells for $4-$6,000 these day, making an expensive repair more economically justifiable. But it likely would cost just as much to repair this watch, which is cheaply cased low quality repeater, and perhaps not even a minute repeater. I doubt this watch would fetch $2000 in good running condition. The repair equation then is would the lesser amount it would fetch in its present condition plus the cost of repairs exceed what the watch would sell for after repairs. I am skeptical that it would, unless all that's needed is a minor adjustment.
June 14, 2014, 04:19
Ken Berry
Hi jack a little closer to home for you, My father is a semi-retired watchmaker and would be more than happy to have a look at your issue and give you a quick assessment
June 19, 2014, 16:17
Jack Winch
Thanks! How would I contact him?
I've now got the quarter repeater functioning, but it's out of phase with the time showing... I don't suppose this is just a matter of resetting the hands, is it?...
June 19, 2014, 17:46
Ken Berry
[]
I guess you could try setting the hands to the same time/setting as the repeater ?