Internet Horology Club 185
Unusual (LEVER CHRONOMETER ?) Rare ??
September 13, 2014, 06:29
Louis Joselowitz
Unusual (LEVER CHRONOMETER ?) Rare ??
The question is ,can this escapement be called a chronometer? Certainly it is unusual and the only one I have come across with the combination of a Helical balance spring/Lever escapement . Dial & movement signed F.Fritz & co. Geneva . Also the stepped balance arm made so that it can be seated lower into the base plate to accommodate the space needed for the Helical spring.
Scarce ? Rare ? or just a novelty ?


josbern
September 13, 2014, 06:31
Louis Joselowitz
Stepped Balance


josbern
September 13, 2014, 06:34
Louis Joselowitz
Recess in base plate to accommodate lowered balance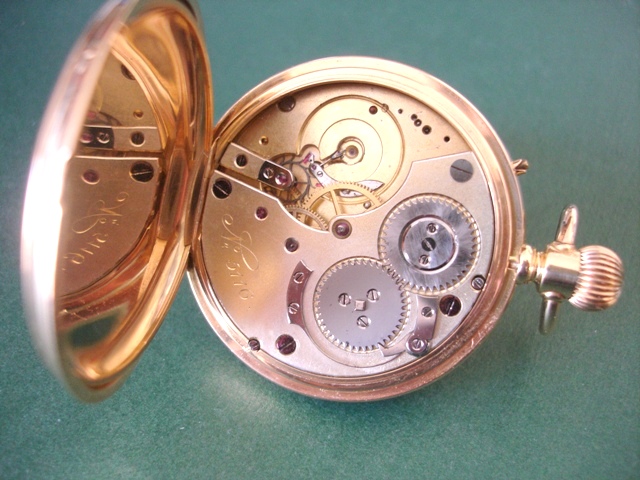 josbern
September 13, 2014, 06:37
Louis Joselowitz
Open Face pocket watch by F.Fritz & co. Geneva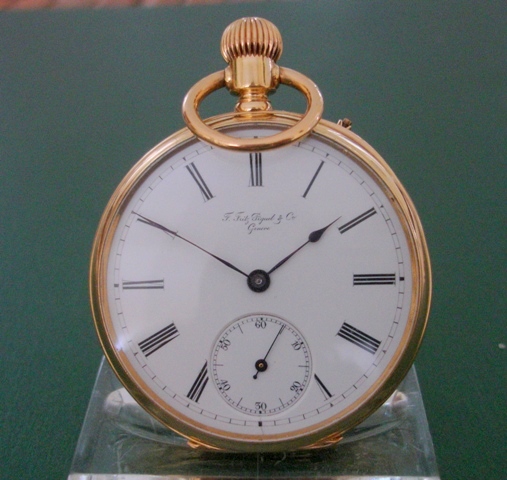 josbern
September 13, 2014, 08:03
Ethan Lipsig
Nice watch! It is my understanding that high grade free sprung levers are occasionally found with helical hairsprings. These were called "half chronometers." I have a James Poole example that has an up-down indicator. I think these fine watches were made because detente escapements were not well suit to use in pocket watches because they were not sufficiently shock proof.
September 14, 2014, 04:57
Gerald Zimmermann
Hi Louis
The watch is unusual for sure. It shows a very fine finish (as far as I can see from those blurry pictures). The stepped balance arms and the helical hairspring would have drawn my attention too.
Closer examination of the dial inscription: 'F.Fritz Piquet & Co Geneva'
Fritz Piquet or often misspelled Piguet was member of a swiss watchmakers collective competing with others for quality and excellence:
'The company specialized in superbly adjusted watches and supplied ebauches to most of the major watchmakers during the middle of the 19th Century, including Patek Philippe. They worked at Rue Bonnivard 10, Geneva. They were associated with the firm of Bachman as Fritz Piguet & Bachman and employed an excellent adjuster, the famous Favre-Rochat who competed with Batifolier. Both were expert adjusters specializing in complicated watches. Piguet & Bachman rivaled Haas Neveux in Geneva Timing Competitions for the first place in complicated watches. Piguet & Bachman won the first prize in the 1888 Geneva Observatory Timing Contest with 228.8 points. They also won a silver medal in the 1878 Paris Universal Exhibition and a gold medal in Melbourne in 1881. They were the top contenders among those specializing in complicated watches.'
Watch #7416 won the first price at the 1886 competition of the Geneve Observatory :watch with a straight line lever escapement, cylindrical palladium hairspring.
Regards
Gerald
September 14, 2014, 08:35
Ethan Lipsig
Gerald, thanks for commenting on the dial signature, which I hadn't looked at closely. I have a soft spot in my heart for Fritz Piquet (or Piguet) watches, since my watch collecting began with a Fritz P. You don't see them often.
September 14, 2014, 17:09
Louis Joselowitz
Thank you so much Ethan &. Gerald for your knowledge about my watch. Members of this club have been so helpful . I am so pleased I became a member. Louis


josbern