Internet Horology Club 185
Norris, Alister-Ball Co Letter 1956 - How Does This Sound?
January 14, 2015, 06:19
John Scott
Norris, Alister-Ball Co Letter 1956 - How Does This Sound?
This is an interesting letter that reveals some things about the manner of doing business in the latter days of the Ball organisation. Members might like to add their observations.
JBS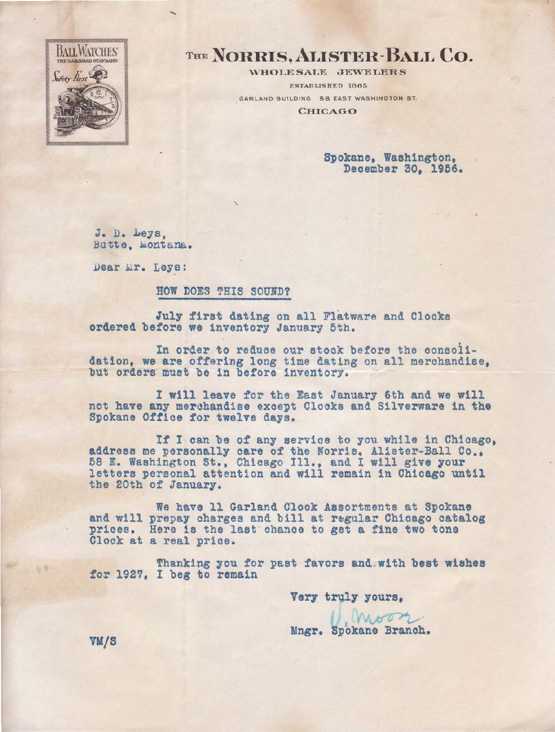 January 14, 2015, 15:39
Bill Kapp
John
At first I thought the date on the letter was Dec 1956 but as the sender wished the recipient a happy 1927, it must have been Dec 1926.
I am not sure what to think of the letter as I don't truly understand the offer.
Can you clarify what meaning you attach to it?
regards
and
happy hunting
January 17, 2015, 03:05
John Scott
Bill
I am assuming that "1927" was a mis-type for 1957.
It had not occurred to me that Ball had an office in Spokane - I always thought it was Cleveland, Chicago, San Francisco and Winnipeg, as embossed on the give-away Ball wallets.
Evidently, there was an intention to raise prices post-stocktake and this was an offer to get in first.
Lovely letterhead.
JBS
January 17, 2015, 04:16
Bill Kapp
Thanks John, we all appreciate your insights and observations.
I don't know of a member who has been more willing to share and have appreciated all the info you have provided me over the years,
Makes you wonder if all the hubs had Managers!!.
regards
and
happy hunting
January 17, 2015, 06:18
John Scott
Bill
Thanks, but no more willing than your good self.
Here is a colour version of the vignette in the top left hand corner.
JBS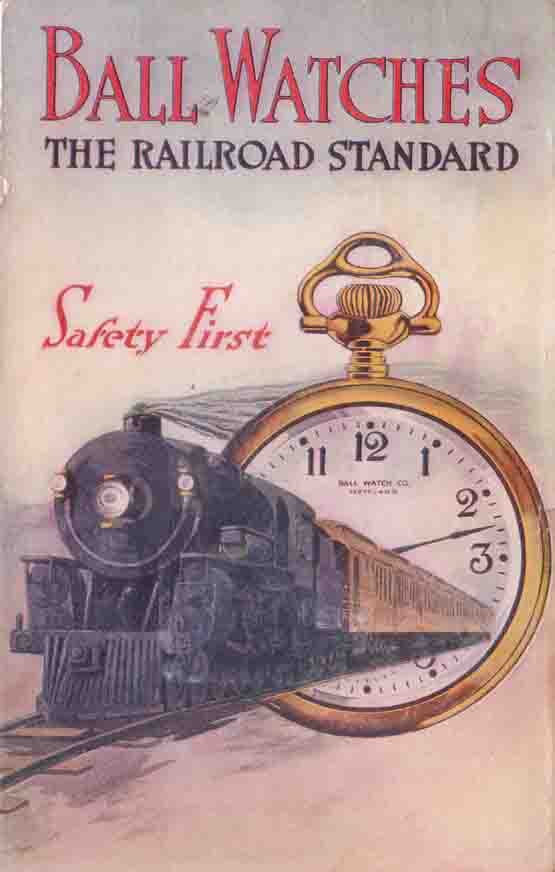 January 17, 2015, 18:58
Lindell V. Riddle

Great color advertisement and interesting letter John, and thanks to both you and Bill for your observations.

So my friends, determining when this letter was written puts us into the "Forensic Horology" mode.

Upon evaluation of the letter, including letterhead design and fonts, the typing and the content I can share the following considerations and finally my conclusion. Many things had changed in the three decades between the 1920s and 1950s and there are several clues in this letter that should help us determine to a high degree of certainty which of those dates is correct and which one is apparently a typographical error.

To begin with, the letterhead is is in harmony with what one would expect to see in the 1920s including the design, the type-faces, and finally the "teens and twenties" watch in the advertisement cut featured at the upper-left. I really do not think they would be using that "Twentieth Century" style case on anything promotional in the 1950s as it is a case design last sold in the 1920s so that alone is something that would tip the evaluation scales toward that letter being of 1920s rather than 1950s origin.

In further evaluation of the content, it deals with inventory control dates which were important in the old days. The general language and terminology used in this letter is archaic, not really what one would expect in the 1950s pointing further to the 1920s being more likely. Mention of "consolidation" would be unlikely in the 1950s as by that time the various Ball-related enterprises were no longer the far-flung operations they were in the 1920s which is yet another practicality clue for dating something like this. We can also see the letter was typed on a manual typewriter which in the 1920s would make sense, but by the mid-1950s electric typewriters were becoming the norm in business correspondence.

Finally, look at the December 30th date... it is shown as "1956" up top of the letter and the later reference to "...best wishes for 1927..." means that of course one of those is a typographical error. To determine which is correct one need only look at a 1956 calendar to find that in 1956 December 30th was on a Sunday. No business in 1956 would have been doing this kind of letter-writing work on a Sunday, and even if they were in the office on Sunday they would date a letter the following day. Even today, many people would be highly offended to see a business letter dated on a Sunday whereas, and this is important, in 1926 December 30th was on a Thursday and that should be carefully considered as strong additional evidence.

To my mind there are more than enough sufficiently conclusive points to determine when this letter was typed so I say the 1920s date is most likely correct and the 1950s date is logically a typographical error.

What do you say?

Lindell



___________________________________________
References:
United States Calendar for 1956
United States Calendar for 1926
WEBB C. BALL CO. - The Encyclopedia of Cleveland History
___________________________________________
January 17, 2015, 19:25
Buster Beck
Great letter John !!
Due to Lindell's brilliant detective work and all evidence presented, especially the calenders, I believe this letter was typed on a Thursday December 30, 1926 !!
regards,
bb
January 17, 2015, 20:10
John Scott
Clearly Lin's deductions are entirely correct.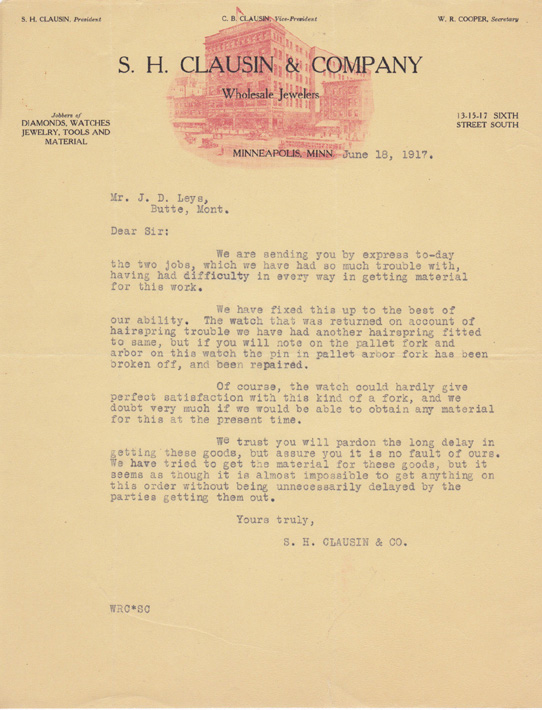 January 17, 2015, 20:12
John Scott
We even have the signature of James D Leys.

January 17, 2015, 20:15
John Scott
Just to bring us back to the Ball topic and referring to the original letter and color postcard, I make the comment that it surprised me to see a Ball ad showing that dial in that case!
JBS