Internet Horology Club 185
First Sergeant John C. Fern, and his watch
September 01, 2007, 15:19
Matthew E. Sutton
First Sergeant John C. Fern, and his watch
Although opinions differ between collectors on the desirability of personalized watch engraving my opinion is that it adds to the pleasure of ownership, even more so if there is a known historical connection to the particular personalization. Without personalization, speculating about who may have owned the watch is also interesting, but there is little hope of learning about the previous owner unless it's a family heirloom. Personalized watches with names and other information give us more information in which to speculate upon. We have all wondered where the watch has been and tried to put it in historical context. Who was the owner? Why was the watch dedicated or presented to them? What ever became of them? How did the watch eventually find its way into my pocket? These are all questions that we typically ask ourselves, especially with the added clues of personalized engraving. I purchased a personalized watch some time ago that peaked my curiosity. It is a beautiful Hamilton Watch Company, Model 922, cased in a 14 karat solid gold Ramsay style open face case. This example was manufactured in late 1928, or early 1929. It's a 12 size watch with a 23 Jeweled movement, and a No.11 Silvered dial. Most remarkably, it's still in the original set of boxes with matching labels corresponding to the watch and case.
September 01, 2007, 16:08
Matthew E. Sutton
Hamilton Catalog showing the Ramsey Case.
September 01, 2007, 16:18
Matthew E. Sutton
This watch is serial number 3011700 which places it just between the Masterpiece serial number ranges.

September 02, 2007, 15:42
Matthew E. Sutton
Here is an image of the watch with the personalized engraving.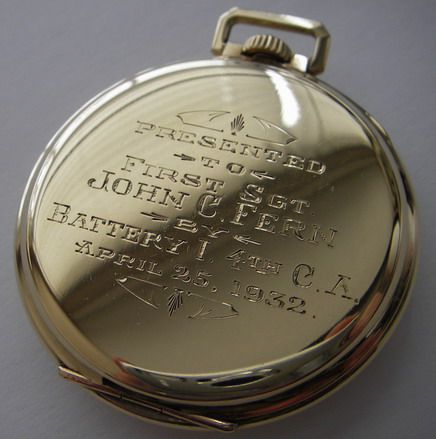 September 02, 2007, 15:43
Matthew E. Sutton
Box.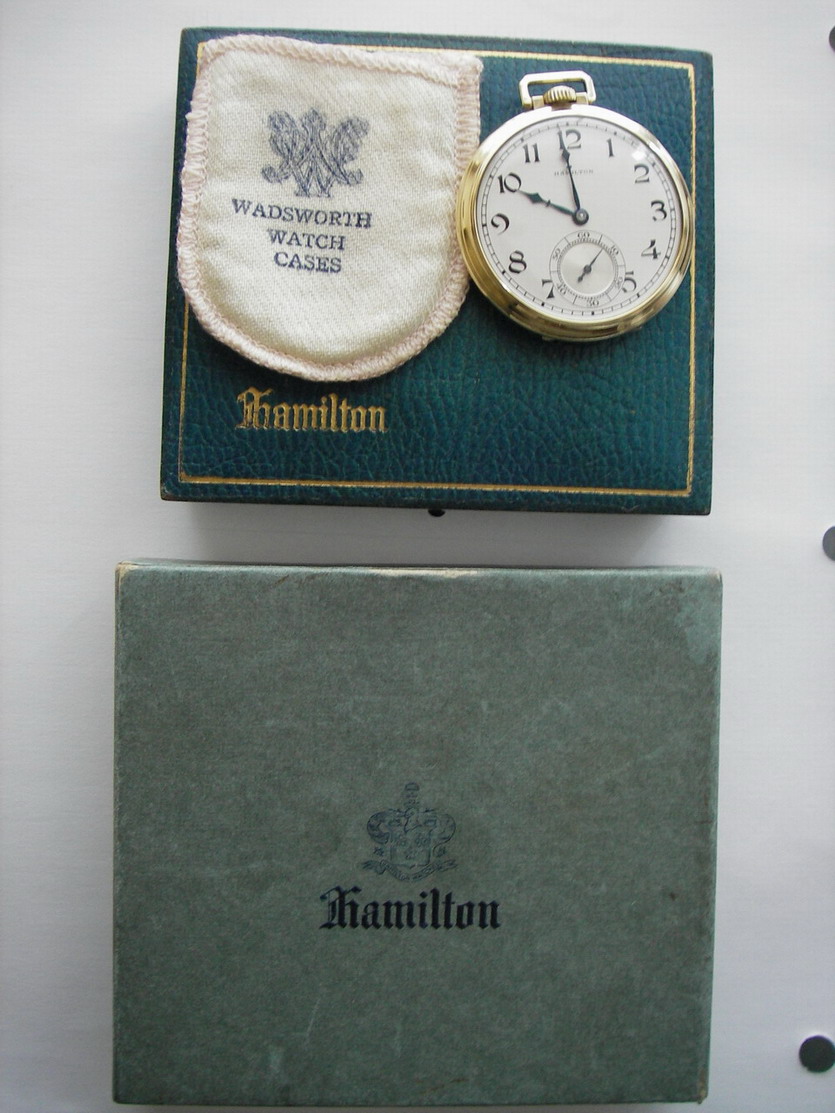 September 02, 2007, 15:44
Matthew E. Sutton
Other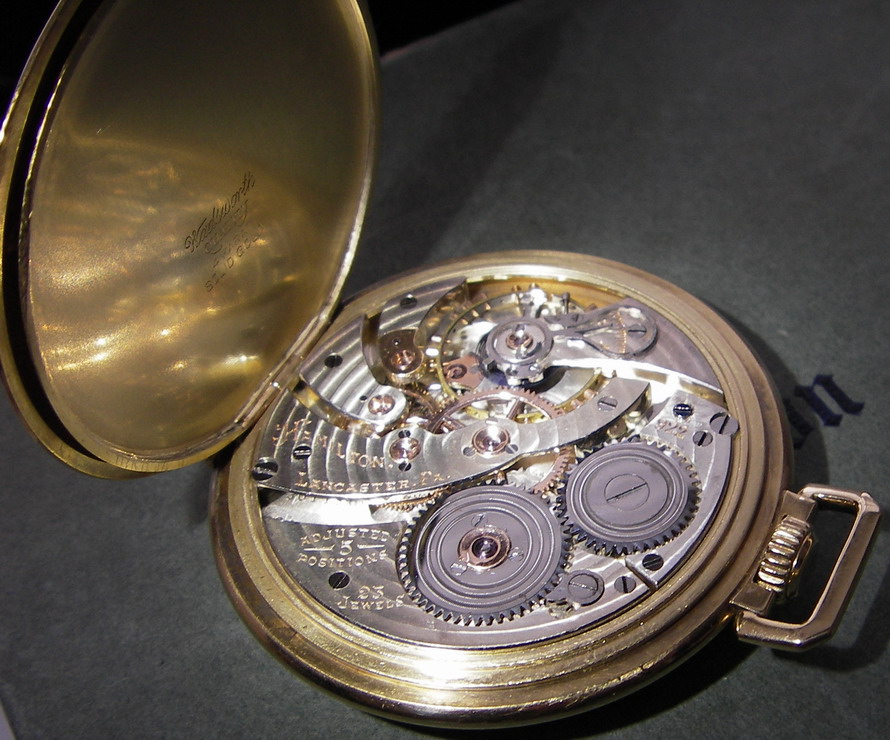 September 02, 2007, 15:45
Matthew E. Sutton
And more
September 03, 2007, 15:33
Matthew E. Sutton
I had looked for a solid gold, 12-size watch with a 23 Jewel movement for some time before I found this one which met my criteria perfectly. IHC President Lindell Riddle had this watch in his collection and kindly offered it to me and because of the military presentation, the pristine condition and accompanying original boxes were not likely to be available again, I grabbed it. Being active duty in the armed forces for 26 years, the sentimental link to this First Sergeant of the U.S. Army Coast Artillery appealed to me from a military perspective. I knew that I would be challenged to find any specific information on this soldier since he was of relatively low rank and unlikely to be mentioned by name in historical text. Unfortunately, commissioned officers are normally the only ones mentioned by name in official military historical text. Although First Sergeant Fern was considered low in grade as far as military hierarchy as an enlisted man, he was appointed in the second highest enlisted pay grade of the time period. Battery I, 4th Coast Artillery obviously held great respect for this individual as this presentation gift is expensive and lavish by any standard. It is also apparent that he greatly treasured his watch as it remains in pristine condition despite its 80 years of age.
September 03, 2007, 23:47
Matthew E. Sutton
The rest of this thread does not have much to do with the actual pocket watch, but will explain what I was able to find out about the owner in 1932. You will get a bit of insight on what First Sergeant John C. Ferns' life was about in his era of time during the late 1920's and early 1930's. You will also gain a glimpse of his particular circumstances unique to his military service and geographical location. All this information was derived from the only clue available to me: the personalized inscription on the case back. This watch has provided many hours of pleasure for me as I have reviewed several hundred military records at the National Archives in College Park, Maryland.
September 03, 2007, 23:54
Matthew E. Sutton
My first step in revealing the First Sergeant John C. Fern mystery was to submit a letter requesting his official military records from the National Personnel Records Center (NARA) located in St. Louis, Missouri. The St. Louis center is the repository for personal military records for the U.S. Army, U.S. Air Force, and the former U.S. Army Air Corps (Air Force). I knew that John C. Fern was a member of Battery I, 4th Coast Artillery, U.S. Army. I also had an idea of the approximate period of his service most likely to be up to April 1932. My reply from NARA was disheartening when I was told that there was no record of his enlistment or discharge on hand. There was a good reason for this lapse of personal archives as explained in the letter. A devastating building fire struck NARA on July 12, 1973. The fire destroyed 80% of the U.S. Army's 16-18 million official military personnel files stored there. The majority of the destroyed discharge records spanned from between November 1, 1912 through January 1, 1960. The NARA response did offer an alternative by referring me to the National Achieves located in Washington, D.C. Acting upon this advice, I visited the Washington, D.C. National Archives, however it proved non-productive as they specialize only in Pre-Civil War era unit records. I was then referred to the College Park archives which specialize in post civil war, modern military documents, with a particular focus on military unit histories (Not individual service members)
September 05, 2007, 03:20
Matthew E. Sutton
After researching the 4th Coastal Artillery on the internet, I was able to determine the general location of the unit during the general time period of the watch inscription. It was some months before I could set aside the time to visit the College Park National Archives, but I finally was able to do so in September 2006. My experience at this state-of-the-art facility would not have been successful if it were not for the assistance and direction of Mr. Mitchell "Mitch" A. Yockelson. Mitch heads the Modern Military Records, Textual Archives Services Division. He was the same individual who I had exchanged emails with after I was directed to the College Park Branch earlier in January 2006. I simply stated my objectives to him and he selected the records that he thought might meet my needs. He pulled several boxes of archives related to military administration and adjutants correspondence for the entire Panama Canal Zone between the years 1916 to 1940. Within thirty minutes, I was wheeling the box cart to an open research table and dove in to work with Mitches' inspiring words of encouragement provided fresh incentive. I recall phrases like: "it's a long shot" and "looking for a needle in a haystack" remain clear in my memory.
September 05, 2007, 14:34
Matthew E. Sutton
The boxes contained a many original hand written and typed notes related to military personnel administration mostly between the Commanding General, Headquarters Panama Canal Department (HQ P.C.), Quarry Heights, Canal Zone, and the Adjutant General, United States War Department, Washington, D.C. Topics included discussion on Foreign Service tour rotations, personnel policy proposals, reassignment orders, and other concerns relating to promotions, awards, and personnel manning levels. I eventually found the "needle in a haystack" document that specifically mentioned First Sergeant John C. Fern, Service number 345881, Coast Artillery Corps. From reading this document I learned that he enlisted at Fort Amador, Panama on October 17, 1928. The radiogram was dated January 7, 1931 and originated from the HQ P.C. and was addressed to the War Department.
September 05, 2007, 23:56
Matthew E. Sutton
The electronic image conversions have not been good to some of the documents that I am posting, but I still think they may be of interest.
This particular image shows John C. Fern as number 17 from the top. These are his orders that state:
"DUE TO REVOCATION EXTENSIONS OF FOREIGN SERVICE TOURS CONTEMPLATE RETURNING FOLLOWING NON-COMMISSIONED OFFICERS TO UNITED STATES ON THE FOUR TRANSPORTS SAILING FROM THIS DEPARTMENT DURING THIS MONTH PERIOD ON ACCOUNT OF SHORT TIME BEFORE SAILING DATES URGENTLY REQUEST RADIO ASSIGNMENTS TO STATIONS BE FURNISHED EARLIEST POSSIBLE DATE SO THAT ORDERS MAY BE ISSUED AND HOUSEHOLD EFFECTS PACKED AND SHIPPED."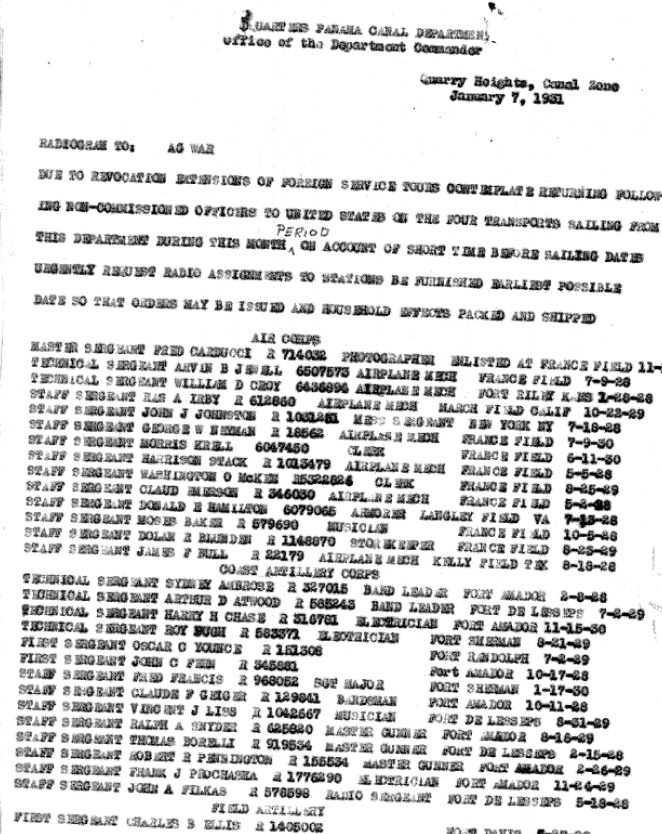 September 06, 2007, 00:15
Matthew E. Sutton
First Sergeant Fern had orders dated January 7, 1931. As we remeber, the inscription on his watch is dated April 25, 1932. We also know that he enlisted at Ft. Amador on October 17, 1928. This means he spent 3 years, 6 months in Panama provided that the personal engraving on his watch was a farewell gift. I think the documents that I will share with you will build a good case for this assumption.
I will go back to June 1930, and work my way back to his orders dipicted above.
November 19, 2007, 11:53
Elijah Glenn Howell, III
Needle in a haystack, indeed! I would ask you for a lottery number, but I do not want the possibility of using up your good luck before you complete the task at hand!
This is truly a great achievement, I also know of the horrible feeling of finding out about the St. Louis depository fire. I found out 6 years ago, when I was trying to get the family a burial flag, and reissue of medals earned for my Grandfather, a WWII vet. I am still at it, as time allows, but it is hard going to say the least.
Good Luck and Continued Success,
Glenn


Glenn Howell

November 20, 2007, 01:10
Matthew E. Sutton
Thanks Glenn. I do need to finish this thread if I can find the time. The fire did alot of damage, but if you know what your Grandfathers unit was, it may help in reconstructing the decorations he was entitled to. Most of the WWII folks seemed to remain in the same unit for the duration.
January 31, 2010, 13:29
Dustin Fern
I came across this thread as I was doing some research on my family history and found it to be very interesting. After some further research I determined that the watch in this thread did belong to my great uncle John C. Fern.
I have been in contact with Matt about it as I have more information about John's life. He mentioned that there was an aution thread the site that contained some discussions. Unfortunately I do not have access to that thread.
But I would like to share the information I have about John and his life and family with everyone here who has interest.
I would like to ask that if anyone has any other information about John and his family that might be different or new from what I have, to please contact me and let me know.
So without further adieu... here is what I know of my Great Uncle 1st Sgt. John C. Fern:
John was born on Jan.28th 1884 in Raymond City, West Virginia. He was the 2nd oldest of 9 kids. He had 1 older brother (Conrad) and 6 younger brothers and 1 younger sister. My great grandfather (Herman) was the youngest and was born in 1899... so I am not sure how much the two of them really knew each other as by the time my great grandfather was old enough John was probably already out of the house and perhaps in the military.
John's parents (Conrad and Catherine) were the first of the family into America and came over from Germany in 1881. According to multiple US Census records Conrad Sr. and Conrad Jr. were coal miners and traveled around the region finding work. Their path took them from West Virginia to Michigan, making it to Michigan around 1890/1891. From then on the family pretty much stayed in Michigan.
From what I have about John, according to the 1910 US Census he lived in Elizabeth City, VA and already was a 1st Sgt. in the US Army and was single at the time.
Then according to the 1920 US Census he lived at Ft. Amador, US Military Forces, Panama Canal Zone. I would assume that he played a part during the construction/running of the Panama Canal. Also from this Census record he was now a part of the Coast Artillery Corps. He was also married by then and had an address in Saginaw, Michigan.
Now, according to the publication, New York Passengers 1820-1957, John arrived there on the ship Pennsylvania on Sept. 12th 1932 after leaving Cristobal, Canal Zeen on Sept. 6th 1932. I am assuming that this is after he retired from the military. His address was listed still in Saginaw Michigan at the time.
Some more interesting findings from the 1945 Florida Census has him and the family living in Pinellas County Precinct 30 in St. Petersburg, FL. His wife's name was Violet. Violet was a good deal younger than John as she was listed as being 42 years old at the time. Also according to this Census record he had 2 children, June Alice who was 7 at the time and born in Michigan, and John C. Jr who was 5 at the time, also born in Michigan.
John died in 1952 in Flordia and was about 68 years old. I have found a digital copy of a Army publication that has a picture of John and another fellow being congratulated on their reitrements... and I have attached both if you wish to view them.
I am still trying to trace down John's kids' path and am thinking that Violet and the kids moved to the San Diego area after John's death. It is believed that John's daughter June is no longer living as I found a post on a geneology site that looks to be about her. I have contacted the lady who initiated the post but she has not responded back to me.
I am not sure about John's son, John Jr. By my calculation he would be about 70 right now and there is a possibility that he is still alive but haven't found anything.
January 31, 2010, 15:12
Tom Brown
Nice to hear from you Dustin.
I had posted this earlier but this may be John Jr.;
The watch owner John C. Fern, his son John C. Fern Jr. was born about 1939-1940 in Michigan. I found where a John C. Fern born 1939 in Michigan died 10/04/1986 in LA. Ca.
Tom
January 31, 2010, 16:05
Michael Johnson
Dustin,
Email in your box concerning your post. Many thanks for the updated information.
Michael
January 31, 2010, 17:11
Dustin Fern
Tom - Thanks for the information. I remmebered seeing this information during my searches before and for some reason discounted it. I think that is before I found a post on another site about John Jr.'s sister June, that put them in California. I wish I could find more information about John Jr. and whether or not he was married and/or had kids... and what took his life so early.
Michael - Since I am not a paying member to the site, I don't think that I have an email box on the site... if possible could you please email me directly at dwfern@hotmail.com? I appreciate it!
January 31, 2010, 17:47
Michael Johnson
Dustin,
please check your hotmail. This is where I originally sent the message.
Michael
September 04, 2012, 16:20
Dustin Fern
I just wanted to bump this thread to say that if the current owner of John C. Fern's watch ever wants to sell it, to please let me know. I would be interested in aquiring it.
As I posted in the past, John C. Fern was the brother of my great great grandfather and I was pleasantly surprised to find this thread and learn everything about John and his military service.
So I thought that if it is ever up for sale again, why not get it back into the family?
So if and when it becomes available, please contact me via my hotmail email address: dwfern@hotmail.com
Thanks!
Dustin Fern
September 04, 2012, 22:13
Phillip Sanchez
Dustin, Did you look at the
thread
September 04, 2012, 23:30
Tom Brown
I don't think he is a dues paying member so he wouldn't be able to see that thread.
Tom
September 05, 2012, 06:14
Dustin Fern
Phillip - Tom is correct, I am not a dues paying member, so I am unable to see that thread... sorry.
September 05, 2012, 06:37
Tom Brown
Dustin
You may have already seen this, it is from the December 23, 1952 St. Petersburg Times, St. Petersburg Florida.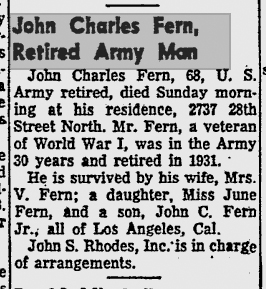 September 05, 2012, 07:43
Dustin Fern
Tom - Thanks for posting that! I have not seen that yet. I will definitely add it to my collection for him.
September 13, 2012, 18:59
Werner Rosier
Dustin,
I have copied the complete sales post which you apparantly can´t see, and sent it to you at your
dwfern@hotmail.com address.
All the best to you!
I apologise if it has been sent by somebody else before, but better twice than not at all



My WWW collection is now complete, time to look for new ventures!
September 13, 2012, 20:17
Dustin Fern
I got your note and thank your very much for it! Hopefully I did not bore you with my long response either!

September 13, 2012, 21:40
Tom Brown
Dustin
I might be able to find more info for you if you are interested. I will email you.
Tom
September 14, 2012, 15:06
Werner Rosier
quote:

I got your note and thank your very much for it! Hopefully I did not bore you with my long response either! Smile
Not in the least, it was a pleasure to read, and even a grater pleasure to help you.
Best Regards


My WWW collection is now complete, time to look for new ventures!