Internet Horology Club 185
Hamilton 992B Hands Color???
January 06, 2018, 12:53
Joey Hamm
Hamilton 992B Hands Color???
I have two Hamilton 992B Railway Specials, with different color hands. One movement has blue hands and the other has black. Just curious if you think these may be original or just pieced together. Thanks, Joey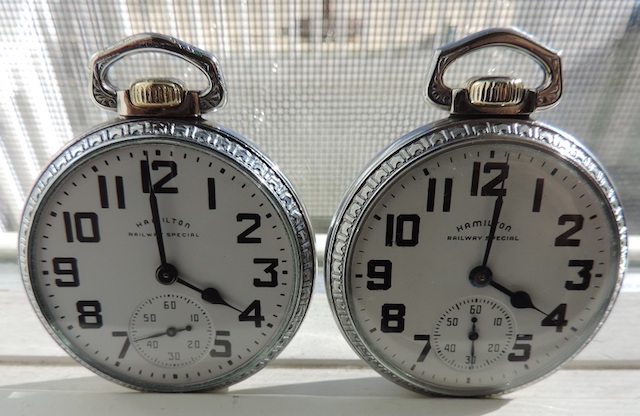 January 06, 2018, 12:55
Joey Hamm
Image 2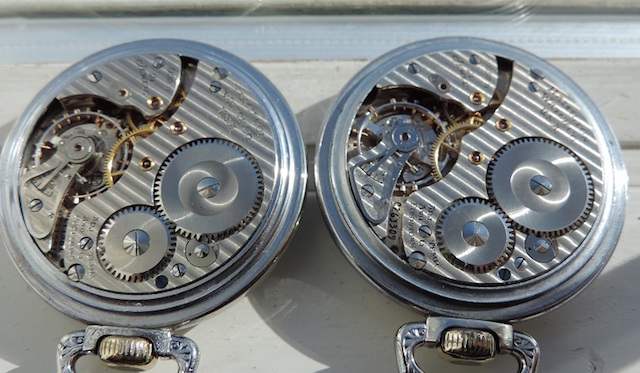 January 06, 2018, 15:49
Larry Lamphier
I can see one of your serial numbers Joey, and it looks to be from 1949. In the late 1940s I have noticed, in the few hundred that I have bought and sold, the hands were mostly black. Were there some blue,.. yes, but to answer your question as far as "original" I cannot. Maybe some members here can remember box sets with the blue hands, but mine were all black. That being said, you can get even more particular with these hands. If you look at the center of the minute hand on your blue set, you will notice that it still has the shinny finish to it. The later black hands were not, they had the black covering the complete hand.
If you really want to get into what is the correct hands, here is a post that we can all learn from.
Correct hands?
Here in the first picture the hands are correct. BUT look at the second picture. In that picture, the "hour" hands, or Time Zone hands are from a MUCH earlier vintage Hamilton. In fact they are from pre-1925. Those hour hands should be the style of the ones on your examples.
Talking with my older watchmaker in CA, he says that he used to just put whatever hands the customer wanted on them, so who knows for sure.
Regards,
Larry
January 06, 2018, 16:10
Joey Hamm
Larry,
Thanks for the information. I will keep digging and if I find something definite, I will let you know.
Joey
January 07, 2018, 01:02
Harry J. Hyaduck Sr.
I have also heard that Hamilton would use blue hands if they ran out of black hands. Whether this is true or not I have no idea.
January 07, 2018, 05:56
Lindell V. Riddle

What follows is based upon documented examples...

Most early 992B examples have blued hands with a polished steel center on the minutes hand, identical to those we see on 992 movements beginning in the 1920s and all 992E examples. After a while, by around the C30000 area 992B hands were all black in color meaning black in the center as well, those all black hands were phased-in gradually. Exceptions include the blue "Solid Diamond" hands shown in the post Larry referenced which were used for a while in the 1942-43 area when there were severe material shortages.

Then, some time later when things began to normalize, close to C120000 the color shifted back to blue with a polished steel center again. Finally, pretty much by the C200000 area all 992B hands were back to being all black, which apparently was the original plan for 992B and related "B-Design" movements. The use of all black finish hands then continued through the end of production and post-production as well.

We cannot be precise because of the fact they did not necessarily complete movements chronologically and during the war including immediate post-war period they used what they had, which caused there to be hands, dials and cases that may not conform to our expectations. Manufacturing in our present-day IS precise to a degree it never was during the time-frames of watches we study and collect from days of yesteryear.

One more thing, when showing pictures of your watches, it is important to provide the movement numbers because all recording and research is based upon referencing movement numbers.

Hope at least some of this is of help,

Lindell



January 07, 2018, 11:10
Joey Hamm
Harry & Lindell,
Thanks for the added information.
Joey
January 07, 2018, 16:36
Larry Lamphier
Thank you so much Lindell!
We have had this conversation before, but my memory just couldn't put it together like you can!
Now I know what to use again!

Best Regards,
Larry
January 07, 2018, 16:38
Harry J. Hyaduck Sr.
Thanks Lindell!
January 07, 2018, 17:09
Joey Hamm
The nice thing about this club is IHC has an answer for everything. Where can you pay $12.50 a year and get everything you need to know about time pieces...
Thanks again for all the info!
Joey
July 23, 2021, 21:30
Mark Grabau
I have become adept at heat bluing. Does anyone have the formula Hamilton used to get a black hand color?
July 25, 2021, 19:43
Lindell V. Riddle

Dear Mark,

There is no "formula" because "black" is the actual color of the "black" hands is in fact black which should not be changed. Please do not change the natural color as that would likely ruin the hands for being accurate going forward.

Hamilton changed the later "B" hands color more than once and once set the color should not be changed. We have explained this numerous times, go to the top of the screen and select the "Find-Or-Search" feature to access previous comments. As Joey suggested go to this link to "Join and Support the Internet Horology Club"
https://ihc185.infopop.cc/eve/...s/a/frm/f/1386019371

We look forward to you joining us.

Lindell