Internet Horology Club 185
Who carrys what watch?
February 22, 2003, 21:00
Aaron Bereiter
Who carrys what watch?
This question has been raised before but I'm currious.
Do you quys and girls carry a watch daily?
If so, what is your watch of prefence and why.
I carry a 19j BWR daily. Its an ugly old watch with alot of life in it. It feels good in my pocket and likes to go places with me. How about you?
Dont be afraid to answer if you carry a casio wristie either.


We wont send out the mob.

Aaron Bereiter
February 22, 2003, 21:07
Wayne C. Anderson
This month its a 16S 7Jewel Elgin Open Faced in steel case - attached with a leather strap - but I try and change watches every month, or wear a Rolex Air King wrist watch.
February 22, 2003, 22:22
Larry Soucheck
You mean we're supposed to carry them?

Seriously, I don't carry a pocketwatch. I love them to death, but wristwatches are neat too. I usually wear a Glashutte Original Pilot which is a fine German watch. Hey, at least I don't use quartz.

Larry
IHC Member 25
IHC Life Member (L6)
February 22, 2003, 22:26
Grant Perry
Although I often think about carrying a pocket watch, I usually wear my Timex Ironman or my Cardinal. I do however bring my pocket watches to work to sit on my desk from time to time.

Grant Perry
NAWCC #0157065
Chapter 111
IHC-185 #141
February 22, 2003, 23:46
Greg Crockett
Right now I have a black-dial, 17 jewel Zenith pocket watch w/broadarrow & I mark, indicating it was issued by the British in India. Everyday, I use either a Timex Indiglow or a Wakmann tripledate chronograph.
February 23, 2003, 00:36
Sam Williamson
992B in a S/S #15 case-every work day.When I get the rest of my gents in fine fettle,I'll carry one to work occasionaly.
Sam Williamson
NAWCC 154312
IHC Charter Member 14
Member Chapters 96 and 185
February 23, 2003, 06:52
Brian C.
I don't carry a watch every day but when I do it's a Waltham, 21j, 645, in a Waltham glass back case. Really sharp looking.
Brian C.
February 25, 2003, 08:02
John D. Duvall
Daily Wrist Watches:
1. Mickey Mouse watch with large 1.5" dial.
2. Seiko Chronograph.
3. Pulsar "Railroad Approved".
4. Swiss Air Force Professional Chronograph.
I put this 12s Elgin HC together from spare components. I got the dial at a local auction, rebuilt a 17J movement, 14K SG case that once housed an ugly OF movement and some spare hands.
John D. Duvall
IHC Happy Camper 192
March 06, 2003, 21:05
Frank Juchniewicz
My going to work watch is a Timex Quartz wrist watch.When I am not working,a "Dollar"Ingram PW,it came as a bonus with a gold pocket watch chain I had won on Ebay.A little oil, and adjustment,and it keeps great time.These are my everday watches.
regards,Frank
March 13, 2003, 11:35
Jerry Treiman
I have carried a pocketwatch since I was 13 or 14 (my first was a Hamilton 992 for $8). I prefer 12-size and my current daily watch is a Waltham 21j American Watch Co. grade bridge model. It is cased in a smooth gold single-jointed case which makes for a relatively slim watch.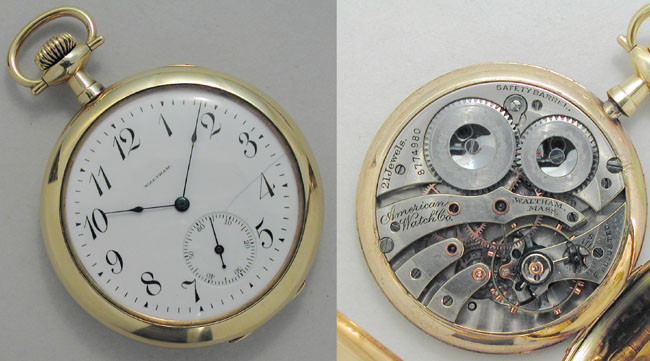 April 22, 2003, 04:24
Stephanie O'Neil
Why have a watch collection if you cannot wear it?
And I do just that; wear or carry as you say, a pocketwatch quite often. Which one? Good question! I have quite a few in my collection-most all working - It depends on my mood and which watch I want to look at to tell time on that particular day-which ever one

strikes my fancy.
April 27, 2003, 22:31
Jerry Treiman
I try to wear different watches from my collection. The movements, of course, are pretty standard in thickness (~7/32 of an inch), so the case makes the difference. The watch I had before was in a single-jointed case which can make for a pretty slim watch. This month I am wearing one of the thicker 12-size, at least in open-face. With the double-back covers and a moderate beveled glass crystal it is about 1/2 inch thick. You could probably put more of a bulge in your pocket with a heavy hunting case, but then why not just wear a 16-size or an 18-size. Aaron and Brian W. had a chance to look at this one today when we met at the San Fernando Valley Chapter (#75) meeting here in sunny southern California. Maybe I'll show a really slim one next month.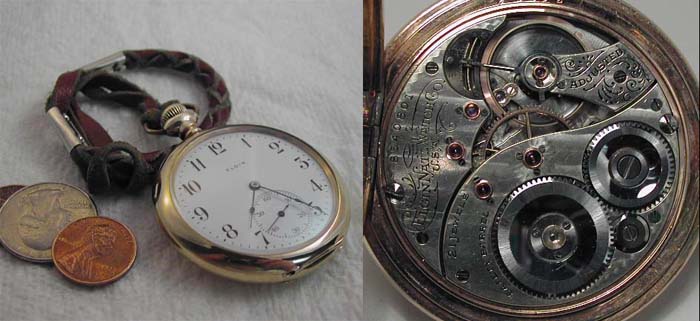 May 10, 2003, 18:50
Dr. Clint Geller
Most days I carry a 23J Waltham Vanguard with winding reserve indicator in an appropriate, but non-original GF case. On occasions when I wear a vest, I sometimes pull a gold early Howard out of the vault and take it out of retirement for one day or evening.
Clint Geller
June 06, 2003, 02:48
Jerry Treiman
The past few weeks I have been wearing a Waltham 12-size Riverside grade (19 jewel) from around 1901. What I love about this watch is the case. It is a niello case made by the Keystone Watch Case Co.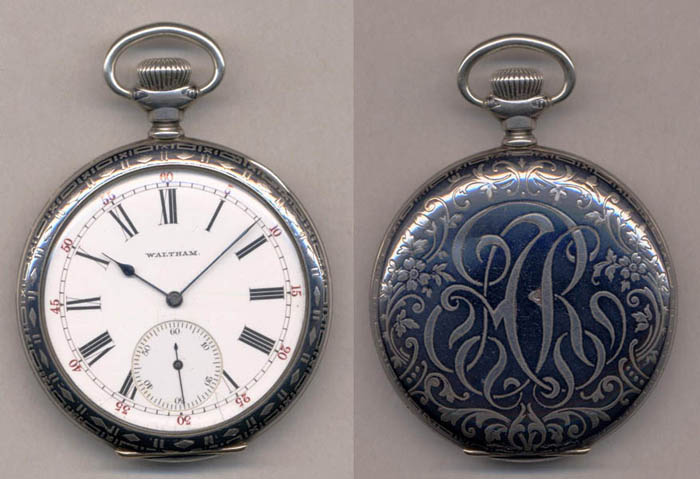 June 06, 2003, 02:59
Jerry Treiman
As I indicated in the previous post, the movement is a 19-jewel Riverside grade. Waltham had two common plate styles in 12-size. All of their early 12-size watches, up until around 1901 used a 3/4-plate layout. Then Waltham switched to a partial bridge style for their higher grades (Riverside and Riverside Maximus). This is one of the last of the 3/4-plate Riverside movements. At this point the Riverside grade has 19 jewels (with cap jewels on the escape wheel). The first Riversides (and the equivalent grade #250) only had 17 jewels. However, all have a gold center wheel, gold jewel settings and a P-grade balance wheel with gold screws. The 3/4-plate layout is my favorite.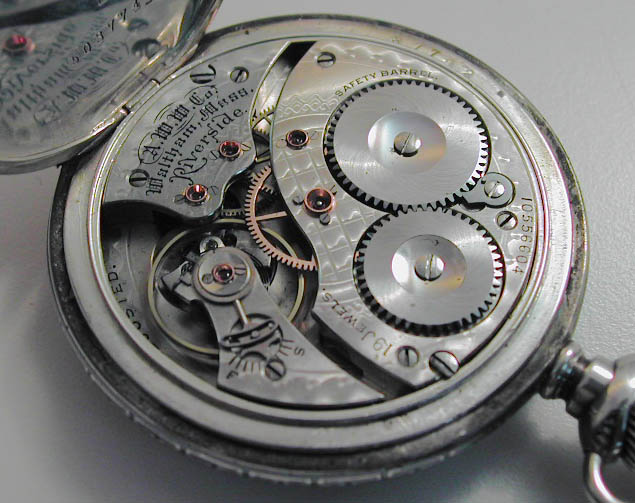 July 02, 2003, 13:17
David Fahrenholz
If I carry a pocket watch it ranges from an Elgin, Hampden in Dueber case to a American Watch Co civil war piece. I usually wear a wristwatch which my favorite lately has been a Sector I grabbed in Aruba.
viele gruben,
David Fahrenholz
Fahrenholz Clock & Watch
Timeless Service
July 03, 2003, 00:18
Scott Cerullo
My main watch is an Ebel Voyager world timer automatic, but enjoy carrying my pocketwatches occasionally. It wouldn't be fun to have them if I never got to use them, although I do get a little concerned about case wear.
July 04, 2003, 00:52
Jerry Treiman
At a land-based chapter meeting the pocket watch collectors always pull out the watch they are wearing for an informal "show-and-tell". If they don't volunteer I often ask what they have at the end of their watch chain. I view this thread as serving the same function.
Well, since you asked, this month I have switched to a 17-ligne (approximately 12-size) Vacheron & Constantin made for Bigelow Kennard & Co. of Boston. I usually focus on the BK&Co watches made by Waltham, but could not pass this one up when it came my way. It has 21 jewels, patent regulator and a hidden-hinge case that was probably made by Jeannot & Shiebler. This is the second watch for which I have successfully made a balance staff.
So, what do you have at the end of your watch chain?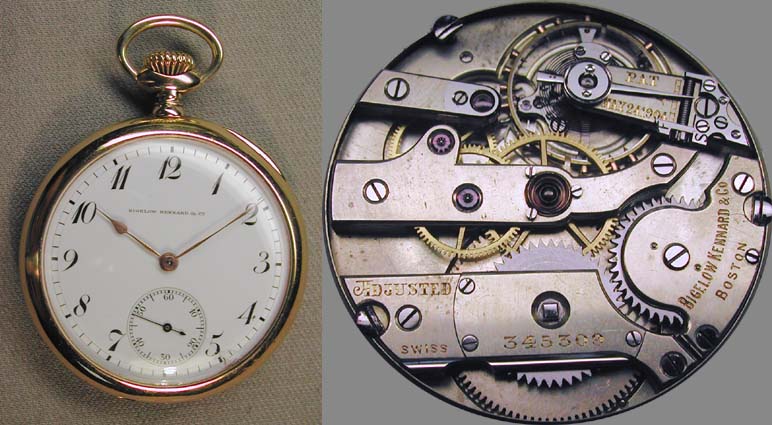 September 06, 2003, 23:20
Dr. Clint Geller
When I feel like turning a few heads, I sometimes throw this puppy on my watch chain. The N Size threaded leg Howard Series IV (Model 1871) dial has a Moorhouse signature on the back.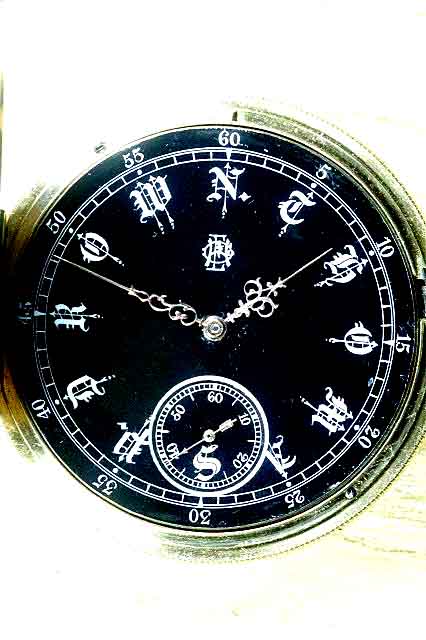 September 07, 2003, 02:57
Jerry Treiman
Great watch, Clint. Some of us were lucky to see this in person at last years NAWCC Seminar (
http://www.awco.org/Seminar2002/HowardTheme/h32.htm
).
This month I am wearing an Illinois 21-jewel grade 299 "Ariston" (private label for Marshall Field & Co.). This grade includes a full gold gear train, gold jewel settings and usually has the fish-scale damasceening. Although the position adjustment is not usually marked on the grade 299, MF&Co. appeared to have insisted upon it for their contract. The case inscription suggests this watch was a 21st birthday for some lucky lad in 1912.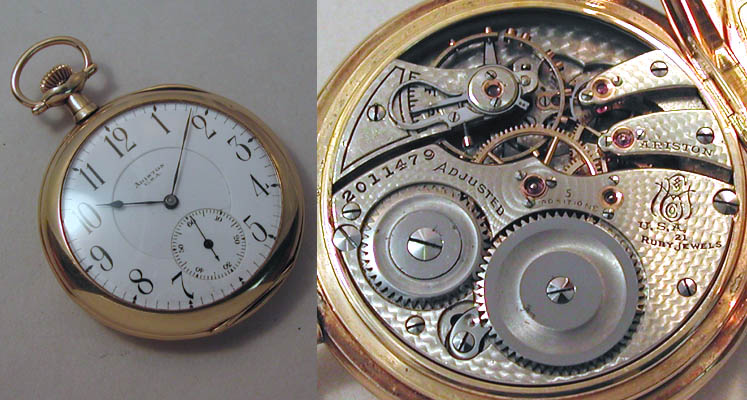 September 08, 2003, 11:37
Ged Pitchford
Hi, 7 days a week I wear an ETA 25 jewel 2824 in a titanium case and titanium bracelet. I gave up wearing pocket watches when my 18ct solid gold half hunter popped out of my waist-coat pocket and hit a concrete floor when I bent down to tie my shoe lace, It broke the staff and dented the case and I nearly cried. Regards ,GED.


September 22, 2003, 07:04
Jeffrey Lankhorst
Being new to watch collecting I found it interesting how horologists from all backgrounds/experiences showcase their watches.
One common thread is that everyone has an affinity for watches ...whether pocket or wrist variety.
Lately, I have worn my 2 pocketwatches that contain a salesman style backing. They intrigue those that I display them to and are impressed when I explain the watches age. Who knows, I may enlist another into the world of horology.
Jeff Lankhorst
IHC Member 245
NAWCC Member 158483
September 24, 2003, 01:49
Jerry Treiman
I switched watches early this month to another private-label Illinois grade 299 -- this one marked "Chronos" on the movement and dial.

Does anyone know who the "Chronos" name belonged to???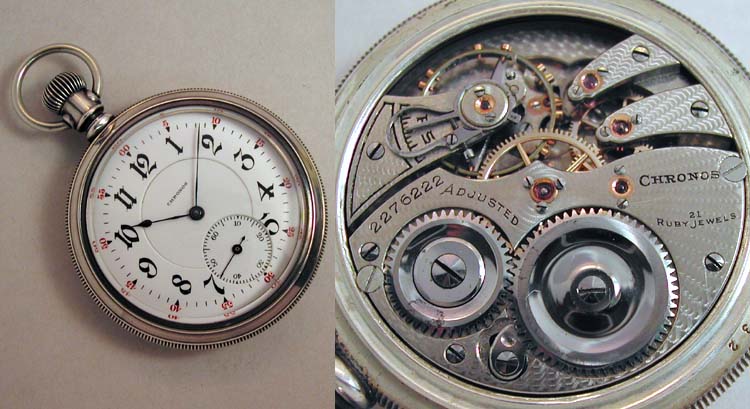 July 03, 2006, 23:51
Jerry Treiman
The wristwatch forum keeps their thread going on what wristwatch they are wearing today, but this pocketwatch thread seems to have faltered a little. Today I wore my newest acquisition - a Waltham Colonial A 14-size Maximus in a crisp white gold case. It was presented to a Past Master of an Ohio Masonic lodge in 1926.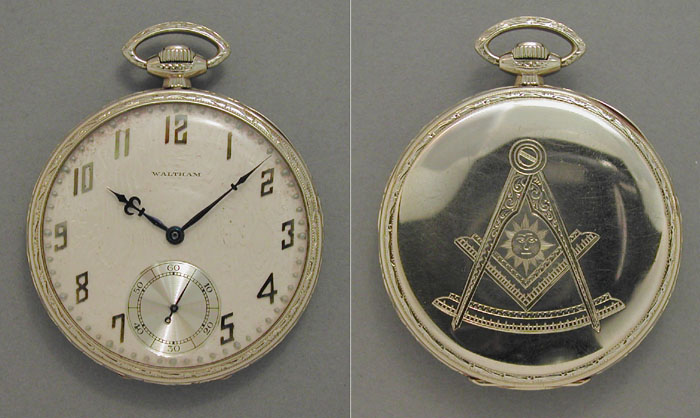 July 03, 2006, 23:52
Jerry Treiman
... and here is the movement.
So, what is in your pocket today?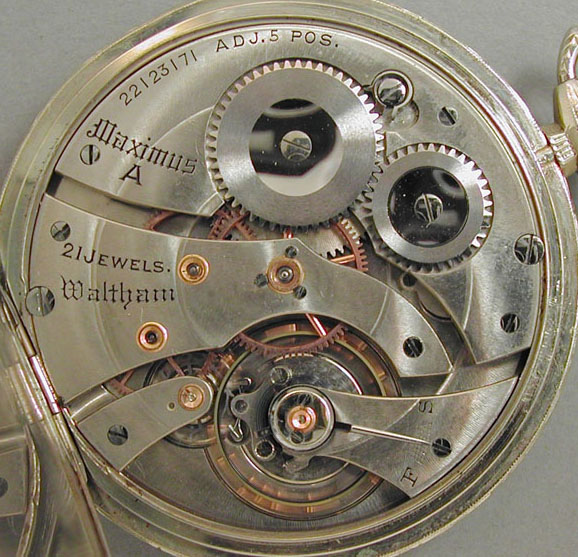 July 06, 2006, 14:27
Norman Bliss
Today I'm wearing my latest watch, a Waltham 18s 17j P.S. Bartlett 1892 tu-tone (my first tu-tone).
Usually, however, I wear either a 1923 Bunn Special or Model 15 Hamilton 992B.
Norman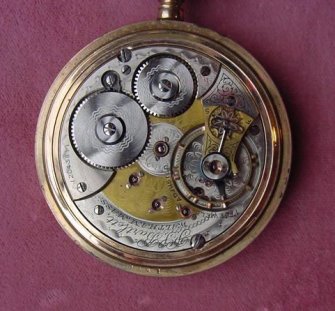 July 07, 2006, 11:41
Donald E. Jones
I have an old 1889 Seth Thomas 15 jewel watch all warmed up and ready to go. I am going to carry it a for few days, just to see how well it works.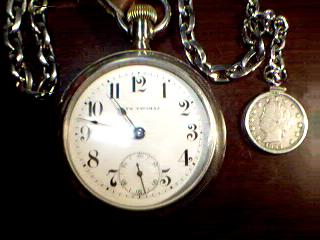 D. E. Jones
July 08, 2006, 22:40
David A. Vasarab
I carry a Hampden Model #105. Cleaned and adjusted, it works great!
July 09, 2006, 02:04
Jerry Treiman
After years of wearing dress watches it is hard to imagine a larger watch in my pocket. Waltham's Colonial A has become my preferred carry watch lately -- it is slim but with a 14-size dial is easily readable. The gold case gives it just enough heft to let you know it is there. This week I am wearing this green gold example with luminous numbers and a fine hidden hinge (see picture in next post). This one has the 19-jewel Riverside movement and dates from around 1917.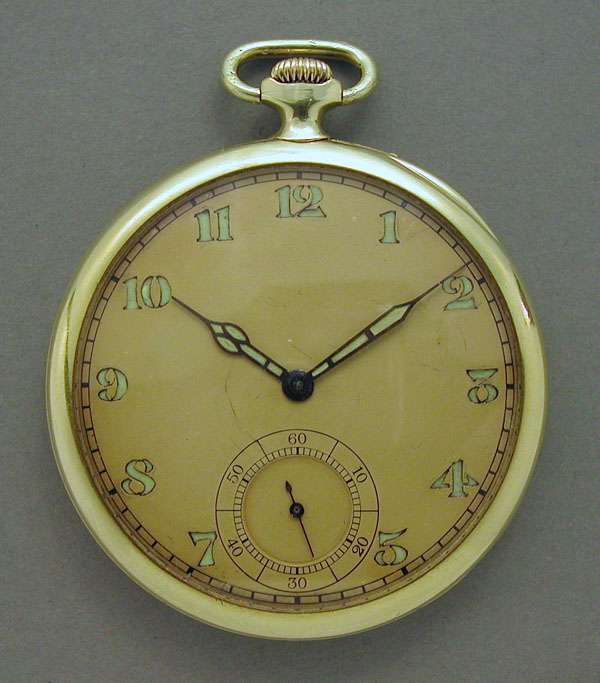 July 09, 2006, 02:05
Jerry Treiman
Here is a view of the hidden hinge, closed and slightly open.
Is anyone else carrying a dress watch (10-14 size)?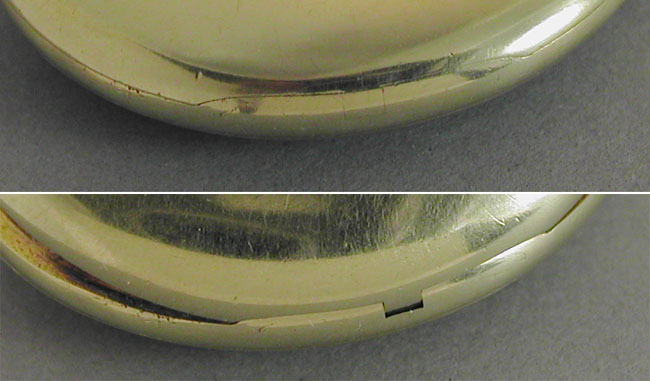 July 09, 2006, 03:22
Cary Hurt
Jerry,
First off, I'm a wristwatch guy, and a Gruen wristwatch guy at that...but, for those occasions when a pocketwatch is appropriate, or sometimes just because, I carry this 18K white and enamel Gruen Ultra-Verithin in their patented Pentagon case. This one is a 17 jewel fully adjusted movement and would date to 1925 or so. The whole watch is only 9mm thick, and would fall somewhere between a 10 and 12 size.
And for the more traditional pocketwatch people, I also sometimes carry one of the two 12 sizes I inherited from my grandfather, an open face Elgin and an Illinois hunter. I'll post pictures of those when I open the safe.
Regards,
Cary
July 09, 2006, 18:30
Jerry Treiman
Thanks, Cary. The pentagons are very nice and interesting watches.
July 11, 2006, 11:39
C. Keith Johnson
Hi Jerry, The only 12sz,open face watch I own is this Illinois that I carry on days when my jeans fifth pocket is too tight to take a larger watch. It of course is a private label Grade 409,circa 1913,sometimes listed as the Illinois 12sz Diamond,Ruby, Sapphire grade. Sorry for the amateur pictures. The watch is pleasing to the eye and keeps good time. Regards..........Keith