Internet Horology Club 185
Somebody Edumacate Me on This 161A!
November 23, 2006, 13:36
James Greg Wooldridge
Somebody Edumacate Me on This 161A!
Lot 814, $5,000? Why? What am I missing? It looks like lot 827 to me...which sold for $900!
Both Type II, Model 15's, aren't they?

http://www.jones-horan.com/0604/html/0604u.htm


Jim Wooldridge
November 23, 2006, 16:26
Lindell V. Riddle

Hmmmmm...

Lot number 814 does look like an unusually nice case that apparently shows only minimal wear. But you're right Jim, that is the most common 161 movement the "Type II P" with about 10,000 having been produced. In fact, it doesn't even have a variant dial.

Ironically, Lot 827 features what is an uncommon but not especially attractive dial and essentially similar movement. The description calls it "a marriage" implying the case and movement are not original to each other. But I would strongly question the accuracy of that statement. Checking the Illinois Ledger that movement number 5609338 is from the last ever 161A block of Illinois Watch movements.

That group 5609101-5610550 dates it to approximately 1947 as a final finish date. The only Bunn Specials with higher numbers are exceptionally rare 161B movements, the "pressed-jewels" examples. My belief is that two-tone Number 3 Case number H853698 which also dates to 1947 is likely original to the movement we see it with. I hope whoever bought that watch leaves it the way they found it.

So Jim, that's my long-winded agreement with your opinion.

Lot 814 went high but I believe Lot 827 was a bargain!



November 24, 2006, 10:15
Robert V. Jones
Yes I agree about 827 it was another one I lost by a bid increment. What do you think about 829?
November 24, 2006, 15:37
Lindell V. Riddle

Lot 829 consists of a 161 Type II which is uncommon with only about 2,000 produced along with the 21-Jewel Variant Dial in a Model 206 Case. The weak part of that one is the case with what looks to be wear-through in the bow and crown areas along with high points on the case-frame. Still, a good value at the $1,600.00 selling price.

CLICK FOR: Selling prices from last weekend's J&H Auction

That brings me to something I like about the images Jones and Horan provide. Unlike most sellers, the folks at J&H show the item "warts and all" so we might know what we're really bidding on! As an example, below you'll see the potential problems (as detailed above I this post) on Lot 829 pointed to in red for emphasis.


Jones and Horan Auctions often let us see the true condition...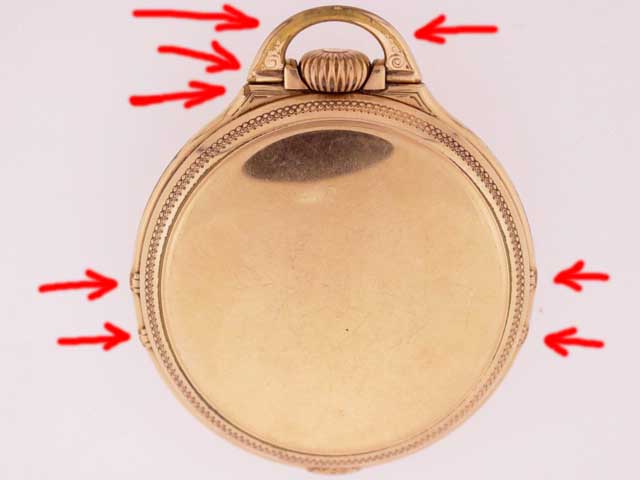 November 24, 2006, 19:04
Tony Dukes
Jim,
I would not pay $5,000.00 for a 161A Bunn Special. Period. What say you/////

November 24, 2006, 19:46
Phillip Sanchez
Tony, if you change your mind, I just happen to have nice one.

November 24, 2006, 20:32
Sheila Gilbert
Lindell,
I just love your answers, they teach me so much.
and with examples too! Fantastic!
Great questions James and Robert! Thank you!


Sheila