Internet Horology Club 185
I Was Offered A Fusee For $20
August 11, 2013, 20:12
Eric Unselt
I Was Offered A Fusee For $20
I Was Offered A Fusee For $20 ...
... so I bought it. It didn't run, it was wedged in the case, the hands were missing, and the bow was broken - but for $20, who cares?
I've never owned a fusee, and had certainly never taken one apart. As I started carefully breaking it down I realized the thing was actually capable of running. The balance pivots were good, the pallets were intact, and the escape teeth weren't worn or missing: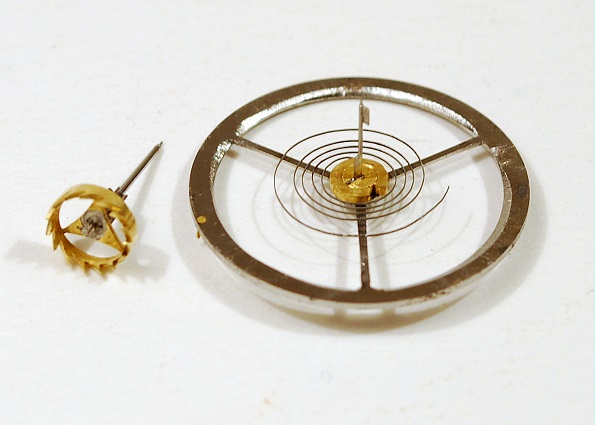 August 11, 2013, 20:13
Eric Unselt
The insanely delicate chain was intact, and the internally ratcheting fusee cone worked: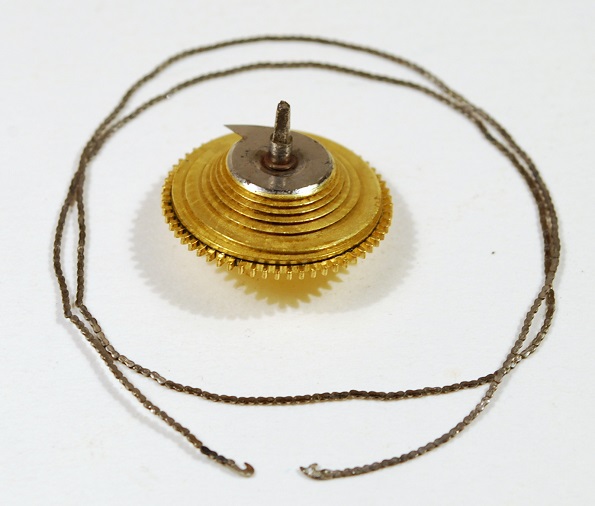 August 11, 2013, 20:14
Eric Unselt
The plates were in great condition, all the pillars were there, and the taper pin holes weren't blown out.
Could the '86 mean 1786?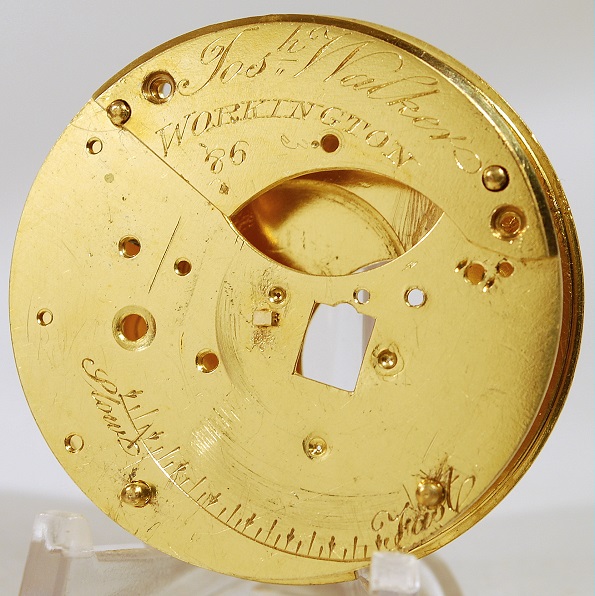 August 11, 2013, 20:16
Eric Unselt
The provenance was all over the dial side of the pillar plate.
"R Kline 1861":
August 11, 2013, 20:16
Eric Unselt
"Rep'd by N Barns Jan 1851":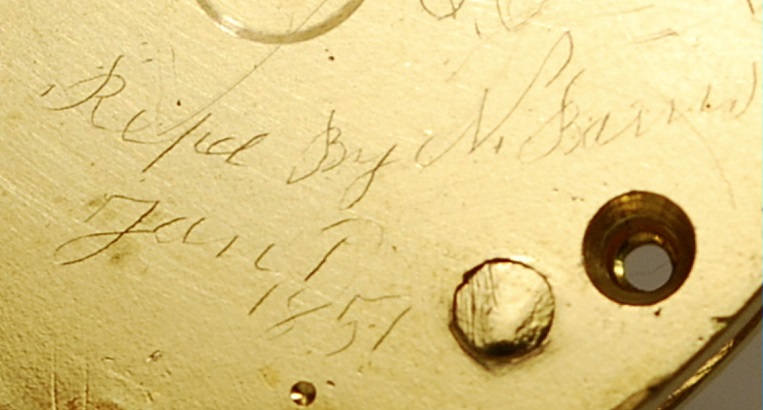 August 11, 2013, 20:17
Eric Unselt
The earliest date on the watch is "E W Baker 1841":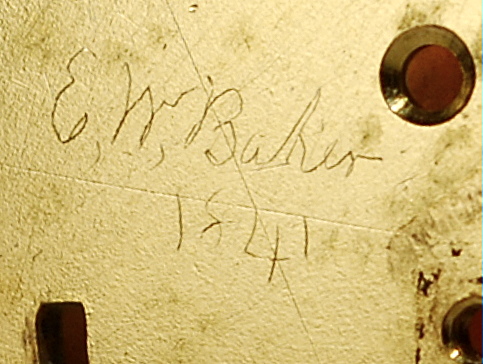 August 11, 2013, 20:18
Eric Unselt
Not only did I get it back together,
but it's running and keeping time.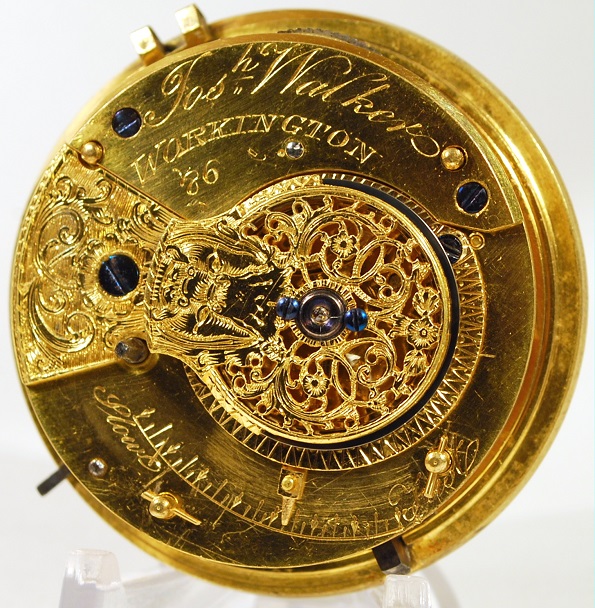 August 11, 2013, 20:18
Eric Unselt
I had to blue several screws, and I replaced all the brass taper pins.
I have no idea if a hack feature was common on fusees, but this example has one. It's the lever sticking out in the left-hand corner of the photo.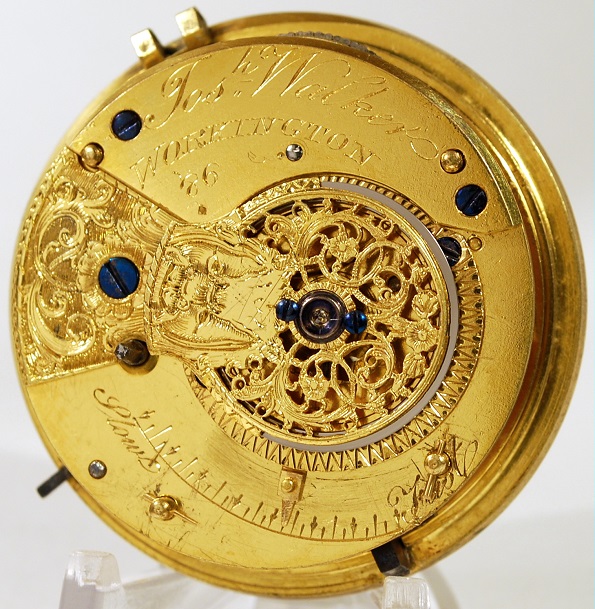 August 11, 2013, 20:18
Eric Unselt
A side view showing the barrel, fusee, and that ridiculously delicate chain: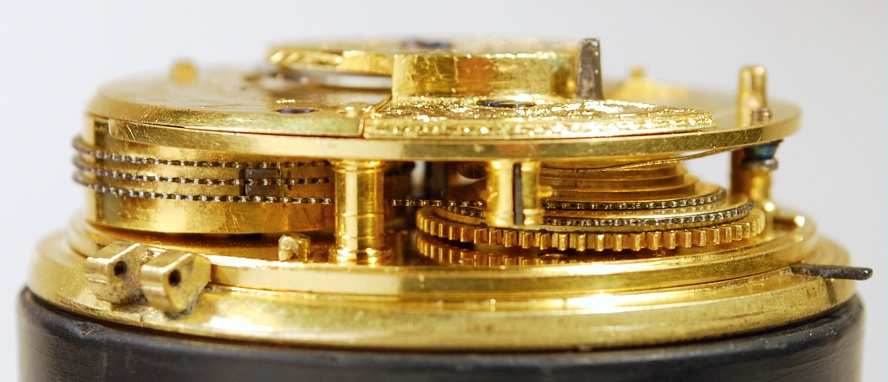 August 11, 2013, 20:18
Eric Unselt
The opposite side view showing the contrate wheel meshing with the escape wheel:
August 11, 2013, 20:18
Eric Unselt
The movement hinges into the inner case along with the swingout crystal bezel. Then the entire thing fits into a clamshell outer case.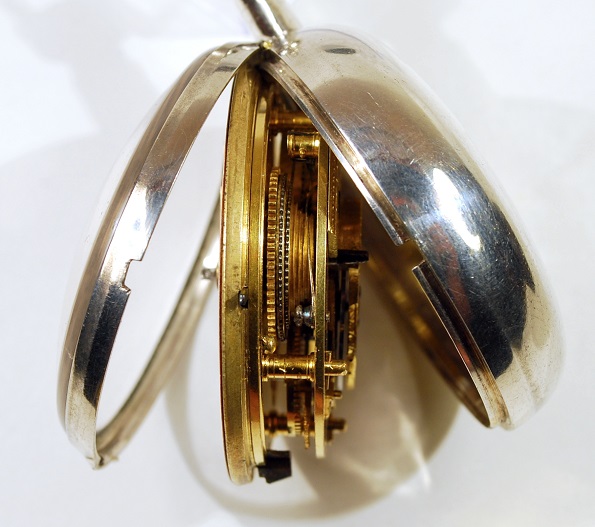 August 11, 2013, 20:18
Eric Unselt
The bow was a challenge. It was worn thin and broken in half. After thinking about it, I made a two-pin jig to hold it while I soldered it. I used solid lead/tin solder, not rosin-core. Then I filed it as close as I could back into shape and polished it. I turned a new brass pin for it, since the old one was deformed and rusted to the point were I had to cut it out. Not perfect, but at least it stands up on its own.
August 11, 2013, 20:34
Eric Unselt
This was definitely worth the effort. I have tremendous respect for the craftsmen of centuries ago. Remember, I've only been working on my own stuff for a couple of years now. I could not have done this were it not for the help of members like Roger Nolfe and Chris Abell and the knowledge gained from this club, reading the posts, and taking the time to research projects like these.
Here is the final work, all cased up and running very well.
Can anyone help me with a set of hands?
I have absolutely no square-arbor hands, gold or blue.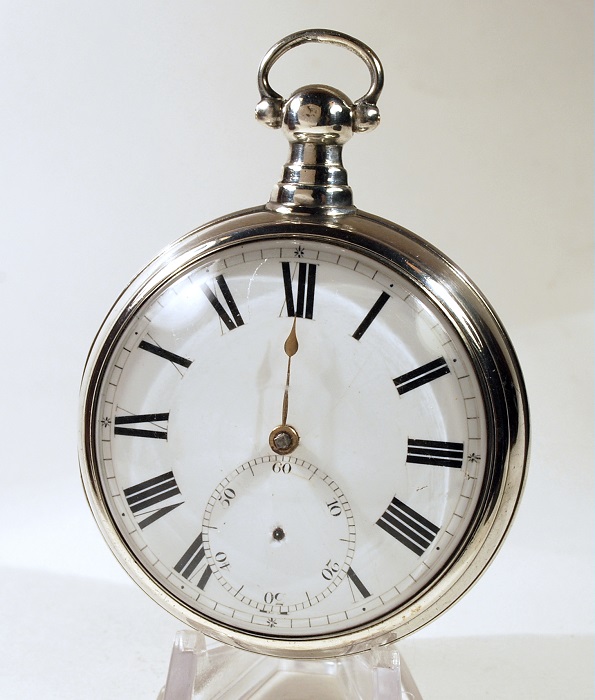 August 11, 2013, 21:02
Wayne G. Hays
beautiful work Eric
August 11, 2013, 21:38
Andy Schwartz
walker has good value, well worth the effort. Nice to know who I can send all my fusee repairs to!
PS...SENT YOU AN EMAIL?? NO REPLY?
August 11, 2013, 21:49
Gary E. Foster
Eric, that's a great restoration, how long did it take, congratulations.
Gary
August 11, 2013, 22:33
Eugene Buffard
Eric I will send you a photo of the hands you can pick from. Tomorrow - I would think this watch should have older hands.
August 12, 2013, 02:46
Peter Kaszubski
Great work Eric
and here is my link why you should be proud of your work.
"Make sure the watch you accumulate will leave your hands in better condition or make sure it gets in hands of someone who can improve and correctly restore it"
https://ihc185.infopop.cc/eve/f...6047761/m/2103934977
Bravo to Eric.
August 12, 2013, 04:05
Gerald Zimmermann
Well done Eric ; Kudos!
The '86' on the movement is the serial# of the watch. It was made by Joseph Walker of Workington ; 1828 - 1869; watchmaker and jeweler (Watchmakers & Clockmakers of the world p243). This watch was made in his early years (1830-1835).
Whenever possible take golden hands to finish this beautiful restoration job.
The case should have some hallmarks I would like to see.
Regards
Gerald
August 12, 2013, 04:21
Eric Unselt
Thanks, boys.

Gary, it took me a week or so, and there's still the hands to contend with.
Gerald, danke for identifying this watchmaker. 1786 seemed a little early, since it has a seconds hand. I take it that Joseph Walker was British, and Workington is someplace in England?
Here are the outer case hallmarks, with Mr N Barns showing up again: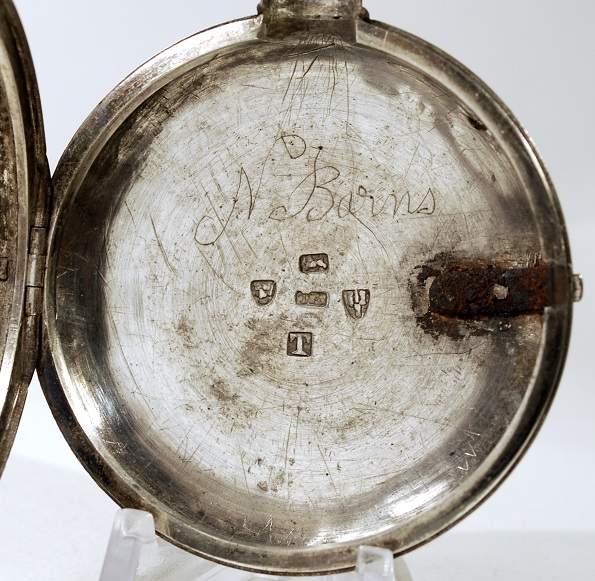 August 12, 2013, 04:22
Eric Unselt
And the inner shell trademark: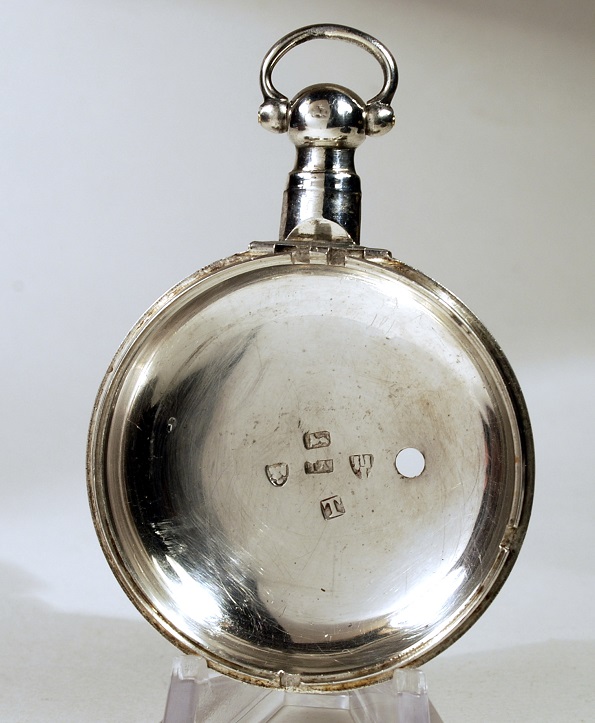 August 12, 2013, 04:41
Gerald Zimmermann
The case is hallmarked : Sterling silver, chester, 1837, duty mark; no clue on the makers mark.
Workington is a city at the north-western coast of england; cumbria.
Regards
Gerald
August 12, 2013, 06:08
Phillip Sanchez
Eric, wonderful stuff, a great mechanic, all of those tiny screws.
August 12, 2013, 08:27
Mark Cross
Absolutely amazing!

FANTASTIC job!!!

HIGH regards! Mark
August 12, 2013, 10:07
Roger J. Nolfe
Nice job Eric. Fusee's can be a lot of fun to work on.
August 12, 2013, 15:20
Eugene Buffard
Here are some photos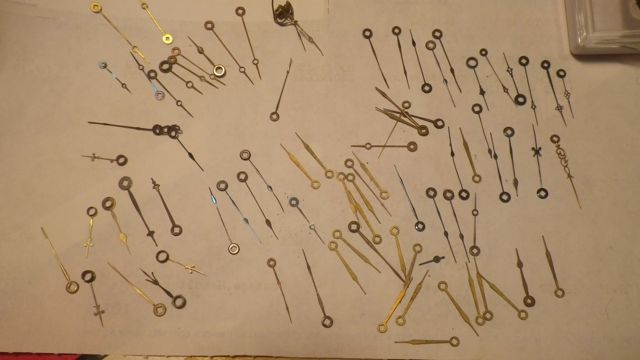 August 12, 2013, 15:20
Eugene Buffard
2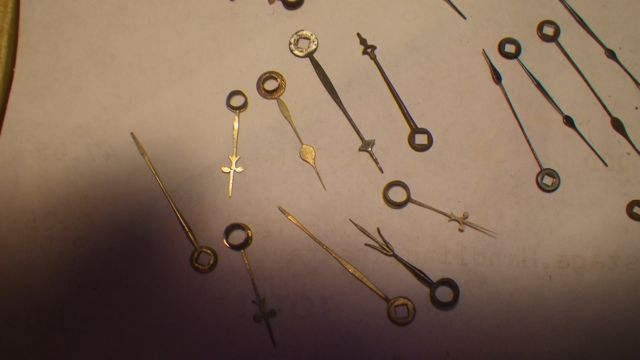 August 12, 2013, 15:21
Eugene Buffard
You know you can make a square hole out of a round hole.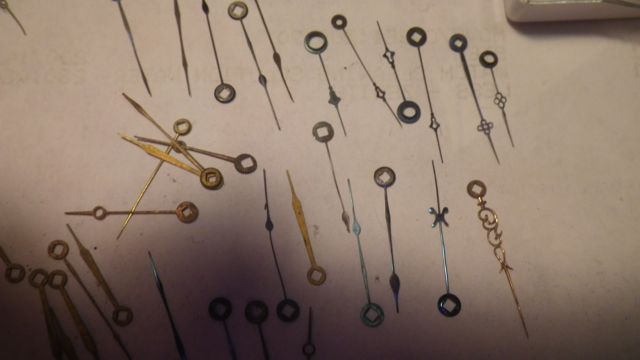 August 12, 2013, 16:42
Gerald Zimmermann
I would use this style to match the hours-hand - given that size and colour matches.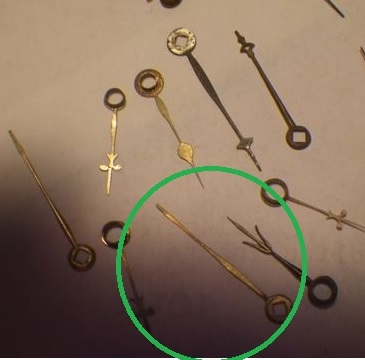 August 12, 2013, 18:18
Eric Unselt
Gerald, I'm assuming that the hour hand is correct because it was till on the watch, even though it looks a little small to my eye. What is Chester (in the case markings)?
How about it, Gene? The minute hand needs to be about 22 or 23 mm long from the tip to the center of the arbor hole, and that square hole needs to be about 1.3 mm to a side.
This hour hand is about 14.5 mm long and could be about 16 or 17 to reach the Roman numerals. The ID of the arbor hole should be no bigger than 2.75 mm.
Now I need a seconds hand, about 8 or 9 mm long, on a pivot diameter of about .35 mm.
August 12, 2013, 18:50
Gerald Zimmermann
Eric
Chester is the city in north-west england where the watch case was assayed and hallmarked. (Other assay-offices were located in London, Birmingham, Exeter, Newcastle, Sheffield .. ) Each assay office had his own city mark (Chester's was 3 wheatsheafes) and a specific date-letter code. For Chester the 'T' in this given shield indicates the year 1837.
For the hands: I would think the hour hand is correct.
Please have a look at the center mark. What are the two letters indicating the casemaker ?
Regards
Gerald
August 12, 2013, 19:26
Eric Unselt
It looks to be TA in the center of the outer case, Gerald. The three sheaves of wheat are on the right?
August 12, 2013, 19:27
Eric Unselt
If the Lion of England is at the top, then what symbol is on the left?
Inner case marks: