Internet Horology Club 185
South Bend Studebaker questions
September 21, 2021, 22:33
Leo Horishny
South Bend Studebaker questions
I have a likely not uncommon problem.
I came into a South Bend watch with a Studebaker Montgomery dial, after reading Mr. Lindell's article, I understand I have a nice, 1927 South Bend, Grade 227 watch.
I spent not much money getting it working and I'm still interested in the watch, but what do do I do about the incorrect dial?
Is there a way to learn what dial a watch originally had?
Is there a way to find out what dial might, or might not have been on this watch? Not to make it more collectible, but to make it less uncollectable as it is now.
Is a dial swap like this something I could leave to a local watch repair shop familiar with South Bend watches? It seems to me, it should be a straightforward operation, but I understand I could be wrong.
Also, why does it seem like so many Montgomery dial watches discolor or get so dirty, in comparison to other style dials? Maybe, it's just me, but I feel I see that.
Thank you for your comments and suggestions,
Leo Horishny
Sun Valley, NV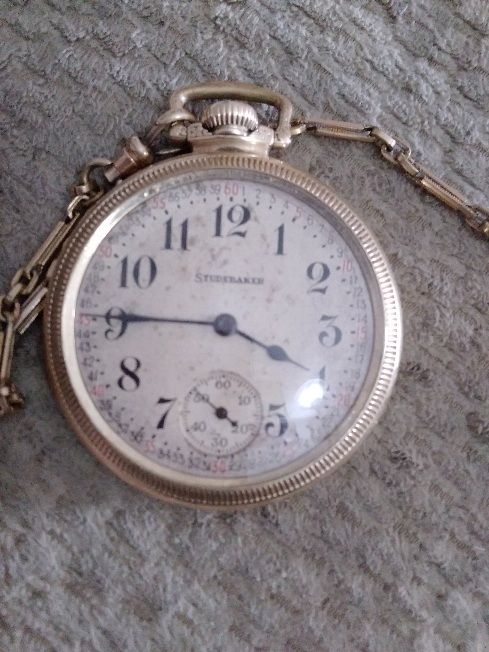 September 21, 2021, 22:56
Leo Horishny
Here's a picture of the mechanism. I hope the number is able to be seen. It is: 1189348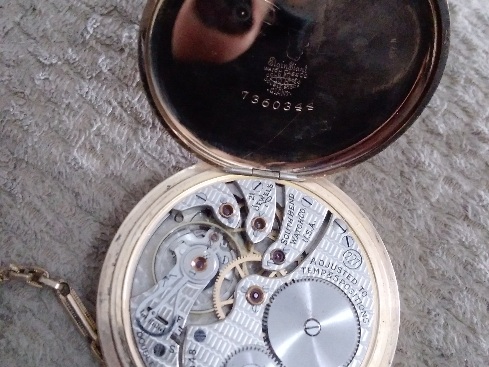 September 22, 2021, 15:58
Gary E. Cochran
Leo the 227's I have had in the past have had a double sunk bold arabic numbered dial marked South Bend...It could also be a double sunk marked South Bend bold arabic numbered Montgomery dial I have had them both ways.....I am not an expert on this but that has been my experience...If you are interested in watches this is the site to belong to....A lot of good information here for a small fee of $12 a year....Hope you will consider become a member....
September 22, 2021, 22:06
Leo Horishny
Thank you very much for those inputs!
I was just looking at cheap watches on eBay, to consider for dial swap and it struck me: I needed to know if the original South Bend dial needed to be double or single sunk! Much less, dials that were more likely contemporary to the watch originally...best as I could shoot for.
I'll keep your images in mind.
September 22, 2021, 22:08
Leo Horishny
Gary, do the hands at least, look likely original to the watch...or might be?
Have you cleaned a watch dial yourself?
September 22, 2021, 23:26
Lindell V. Riddle

Hello Leo,

And thank you Gary for being so very helpful.

Leo, please do accept Gary's invitation to Join and Support the Internet Horology Club, this is indeed the polite and friendly place for watch and clock collectors. I urge you take the time to read and fully evaluate our "SOUTH-BEND WATCHES, A HISTORY OF THE COMPANY AND THEIR PRODUCTS" for a good overview which hopefully leads to a better understanding of these wonderful watches and the times in which they were produced.

You have a grade 227 which was the most popular South-Bend RR grade movement with some 45,000 produced. To be correct they must front a "South-Bend" marked dial and no "Studebaker" reference. Beginning as early as 1910 some grade 227 movements were shipped with a metal "South-Bend" dial to cut costs, this helped the 227 to be for many years marketed as "Americas Lowest Priced Railroad Approved Watch. But they were not ever sold with "Studebaker" on the dial, there was really no such thing as a "227 Studebaker" watch. Good news is your example can easily be corrected, you are well on the way as all three hands on your example are in fact correct.

Those of us who value South-Bend watches replace any incorrect dial with what we know to be a proper and correct one. Most collectors prefer a porcelain-enamel dial. The advanced aging on your painted dial not only detracts but the dial is simply wrong, it was originally sold on a "Studebaker Watch Company" Mail Order Watch. More than likely someone put that dial on your movement thinking the "Studebaker" reference would allow them to get a little more when re-selling the watch, such things are what we often see from eBay sellers, the "anything-for-a-buck attitude" that is all too common in today's dog-eat-dog world.

Again, please study the "South-Bend History" referenced above for additional information. We have also archived some of the "Studebaker Watch Company" mail order catalogs which you may find of interest.

By the way, that is not a "Montgomery Dial" which refers to one of the dial designs patented by Henry S. Montgomery, Time Inspector for the Santa-Fe Railroad and they always have a big "6" in the seconds register. Yours is what we call a "marginal-minutes" dial which is similar looking, but not the same.

Hope you join us, this is a fascinating hobby and with IHC Membership there is so much to learn which can add greatly to your enjoyment.

Lindell



September 23, 2021, 00:08
Leo Horishny
Mr. Riddle, thank you for the comments. I'll start looking at the dials more closely to note what you pointed out.
I never considered studying the ads, I imagine that should help me decide what dial I might consider. Thank you for steering me there.
Much as I honestly would like an appropriate Studebaker dial, block Studebaker mechanism watch, I'll first focus on selecting period fitting South Bend dials and then look for a member here who might have a suitable face for the watch.
Are there different qualities or notable differences in the varied constructions of watch mechanisms? Let's see if I can clarify this:
As an example, I've noticed different placement of the block Studebaker lettering, sometimes in a line, sometimes arced under a wheel, depending on the width and surface available because of however the mechanism is constructed.
Looking at watch mechanisms, what can I say looking at the strips, and swoops,
and wide plates sometimes...when I look at a watch mechanism, is there a correlation with quality or complexity that can be made depending on what you see?
I understand the history and quality leans towards the actual South Bend watch I can get assembled, and South Bend Studebaker marked mechanisms, I do have a sentimental tug more towards the designated Studebaker watches. First step, get this watch correct as can reasonably be done.
Thanks for the tips!
Leo